Nikon F100 Camera Review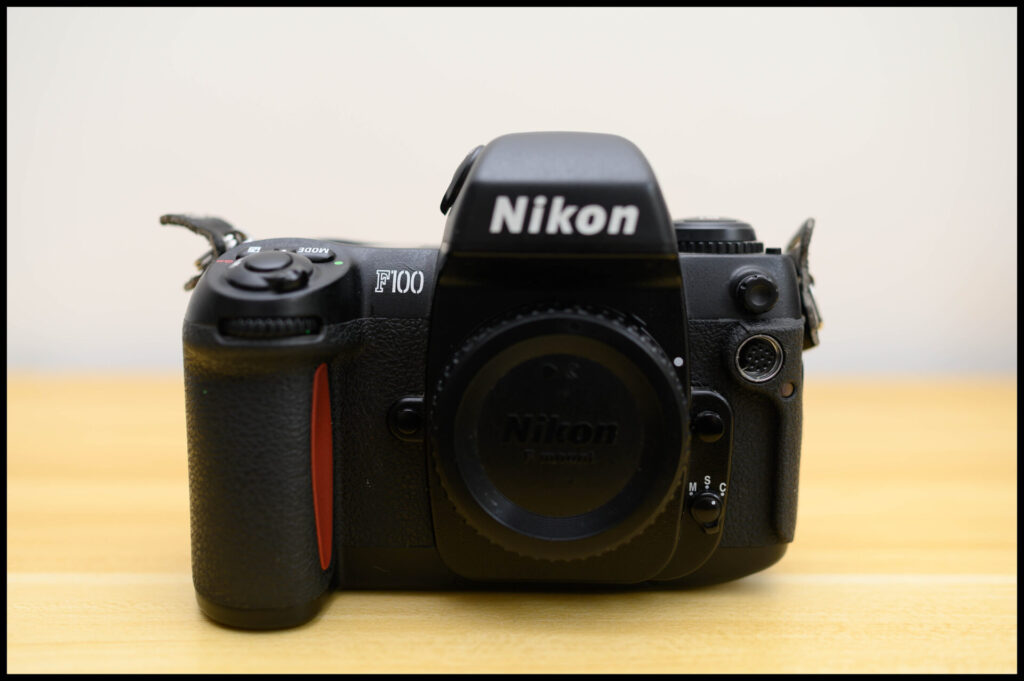 The Nikon F100 is a strange camera for me, it has a huge reputation and I have purchased the camera three times now to include it into my work bag. I'm trying to shoot more film at work so the Nikon F100 seems like the perfect fit for me, as I can share my F-mount lens with the camera body and maintain auto-focus while shooting at work, which makes my life easier. I have been shooting with the F100 for around 4 years now so I think I finally have put enough film through this camera to give a review of it.
I love shooting film, I shoot more film than digital images in my personal life, so the desire to start shooting film at work was strong. I loved looking at the old black and white photos from music festivals and rock concerts when I was younger and I really wanted to try and recreate those types of images. The biggest problem with shooting film is that I already shoot with two digital cameras in the pit, so including a third camera needed to painless and simple to include. Point and shoots cameras won't work because the lens tends to be too wide at festivals, and too narrow for live shows. I needed an interchangeable lens camera system so it has to either be a rangefinder or an SLR. Slr seems the perfect fit for me as I already have a ton of lenses for my Nikons, so I ordered the Nikon F100.
When the first Nikon F100 arrived, it reminded a lot of my Nikon D700. It was about the same size and weight, felt good in the hand and the controls felt very similar, so it found a permanent place in my work bag and I have been using a Nikon F100 for the last few years, only switching to my Nikon F2 when the Nikon F100 broke down on me. That has happened a few times unfortunately.
The Nikon F100 is built like a tank, well maybe "a digital tank". The construction of the camera is very similar to my Nikon D700 and much stronger than the new Nikons such as the D500 that I use. The body of the Nikon F100 is made out of a magnesium alloy but the film back is made out of plastic. Unfortunately, the camera is not weather resistant like so many of the modern-day DSLR from Nikon. The film back does have a bad rap with the plastic clips from the door latch snapping off if you are too rough when closing the film back, but it has never happened to me. Film backs do seem to be hard to find and rare online, so if you happen to break the plastic clips, you will need to tape the back shut or buy a new Nikon F100. Overall I would say that the camera is solid enough to withstand most things thrown at it. The only thing that I would like the Nikon F100 to have is some weather sealing. At festivals, when it rains, the show goes on. I need to keep shooting in the pit when it rains and my digital Nikons have never failed me yet, so it would have been nice if I could have used the Nikon F100 in the rain as well. Shooting in the rain can give you some great pics at festivals so maybe I will have to upgrade to the Nikon F6 one day.
If I had to compare the Nikon F100 to my Nikon F2, the Nikon F2 is built to a higher degree of quality and feels stronger but the Nikon F2 weighs a lot more.
The Nikon F100 overall economics are really good and the grip feels really good in the hand. Nikon's modern SLR has always felt good in the hand, and this is true for the Nikon F100 as well. I have used this camera for long periods of time at festivals and it never felt uncomfortable in the hand. Your fingers wrap around the grip and it just feels good. One good aspect of the Nikon F100 is the slightly heavier weight compared to the modern DSLR of today. The Nikon F100 is far more balanced when you have a big heavy lens attached to it. This sounds like a small thing, who cares if a camera is front heavy, but shoot all day with a camera and you will quickly find out that it makes a huge difference.
The layout of the controls on the Nikon F100 is very similar to modern-day Nikon digital SLR. If you have used a Nikon DLSR camera, then you will feel right at home with the Nikon F100.  The controls are very easy to reach, with thought given to what a photographer would need to access and use. You will never have to move the camera away from your face to change a setting once you are used to using this camera. All the controls are accessible from your hands while the camera is up against your eye and you are shooting. This is so important. Nothing breaks your flow when shooting more than having to take your camera down to look at it while changing a setting. This is one of the reasons that I hate using any Sony camera and why I only shoot with Nikon and Fuji digital cameras now. If you are shooting in a high-pressure environment such as a three-song set for an artist on tour, you don't have time to play with camera settings and scroll through menus. Your clients only expect results and they don't want to hear an excuse such as "I missed the shot because I was changing my camera settings."
On the top right of the camera, you will find the mode dial to switch to the different shooting modes, an exposure compensation control button,  the on/off shutter button, and the control dial for the aperture on modern lenses. The buttons are great overall. Very similar to any modern DSLR, The shutter button is easy to use, and getting a half-press for focusing and a full click for a shoot is easy. Personally I would have preferred a threaded shutter button, but most people would be happy with a normal shutter button. The exposure-compensation button served dual roles in that it is also used in combination with another button to rewind the film when you are done shooting.
At the back of the camera, on the right side, you will find the AE-L/ AF-L button and an AF-on button which I generally use for back-button focusing. I seldom use the AE-L button as I find the metering on this camera to be fantastic. The AF-on is in a good place for your thumb to find if you are doing back button focusing but if you have small hands, you might have to stretch your thumb a little to find it. Notice the diopter adjustment above the AE-L/AF-L button. This is a godsend if your eyes are starting to get a little old.
The control dial on the left of the camera allows you to control the shooting of the camera as well as the iso, flash, and bracketing settings. The Nikon F100 has a DX code reader built into the camera and will set the ISO automatically but you can manually change this setting with the ISO dial if you wish to push or pull your film. The bottom dial is locked, you have to use the small circular button on the top left corner to change the shooting mode. You can change the camera from single-frame to continuous, or double exposure, or finally self-timer. The Nikon F100 shoots at 4.5 frames a second or 5 frames a second with a battery grip but I never use continuous shooting with a film camera. Shooting film is getting expensive now, so I shoot a single frame at a time. The flash button allows you to change the flash settings like front or rear curtain sync, and finally, the bkt button allows you to bracket a few shots. The BKT button also works as the second button to be used when you want to rewind the film. The final button is the CSM button which is used to change settings on the Nikon F100. The customs settings are displayed in codes on the top of the LCD panel. Hold down the CSM button and use the aperture and shutter speed dials to change the settings.  Their meanings are a little crypt but they work out like this
CSM 1 Automatic end-of-roll rewind

 

— 1-0 = disabled (default), 1-1 = enabled
CSM 2 Bracketing step value — 2-3 = 1/3 stop increments (default), 2-2 = 1/2 stop increments, 2-1 = 1 stop increments
CSM 3 Bracketing order — 3-0 = correct, under, over (default), 3-1 = under, correct, over
CSM 4 Release activated AF —

 

4-0 = enabled (default), 4-1 = disabled *(use AF-On button!)
CSM 5 Non-DX-code warning —  5-0 = after the film is advanced to frame 1 (default), 5-1 = when the Power switch is moved to On
CSM 6 Focus indicator selection — 6-0 = stops at the outermost sensor (default), 6-1 = sensor selection wraps around (e.g., you can scroll through AF area selection with the arrow key.)
CSM 7 Release activated AE lock — 7-0 = disabled (default), 7-1 = enabled *(to function like F5)
CSM 8 Film advance when back closed — 8-0 = disabled (default), 8-1 = enabled
CSM 9 Closest Subject Priority in Single Servo AF — 9-0 = enabled (default), 9-1 =disabled
CSM 10 Closest Subject Priority in Continuous AF

 

10 10-0 = disabled (default)*, AF10-1 = enabled
CSM 11 Flash and Exposure bracketing — 11-AS = Simultaneous flash/exposure (default), 11-AE = Exposure bracketing only*, 11-Sb = Flash bracketing only
CSM 12 Switch dial controls — 12-0 = Disabled (default), 12-1 = enabled
CSM 13 Easy exposure compensation — 13-0 = disabled (default), 13-1 = enabled (exposure compensation can be set without pressing the c button. In  A or M mode, the rear command dial controls exposure compensation; in P or S mode, the front dial controls exposure compensation.
CSM 14 Film advance for multiple exposures — 14-0 = single frame (default), 14-1 = continuous (multiple) frames
CSM 15 Meter on length — 15-4 = 4 seconds*, 15-6 = 6 seconds (default), 15-8 = 8 seconds, 15-16 = 16 seconds
CSM 16 Self Timer delay — 16-2 = 2 seconds, 16-5 = 5 seconds, 16-10 = 10 seconds, 16-20 = 20 seconds
CSM 17 Illumination — 17-0 = normal (default), 17-1 = activated on any button press
CSM 18 Data imprint

 

—18-0 = disabled (default), 18-1 = enabled (yy/mm/dd hh/mm on first frame) Note: requires MF-29 camera back for imprint capability.
CSM 19 Aperture control — 19-0 = use set aperture value (default), 19-1 = use variable aperture value  Note: Setting 19-0 means that you want the camera to maintain the aperture you originally set (if possible) while setting 19-1 means that you'll allow the camera to vary the aperture as you zoom or extend a Micro-Nikkor.
CSM 20 LED confirms exposure taken — 20-0 = disabled except on self-timer (default), 20-1 = enabled always
CSM 21 AE/AF lock button — 21-0  = simultaneous exposure/AF lock (default), 21-1 = exposure lock only, 21-2 = autofocus lock only, 21-3 = autofocus lock only, remains locked after releasing the button, When 21-3 (autofocus only lock) is set, the first press of the AE/AF lock button locks autofocus. A subsequent press unlocks autofocus.
CSM 22 Front dial Apertures — 22-0 = enabled (default), 22-1 = disabled
In general, I have these two settings that I use. CSM 1 = 1 and CSM 4 = 1, which basically automatically rewinds the film and sets up back-button focusing. This is how I like to shoot with my film SLR cameras.
The inside of the Nikon F100 shows the difference between a modern SLR and the older film SLR cameras. The Nikon has auto film loading and a DX code reader. You simply drag the film across the shutter and leave the film strip touching the red square mark on the right-hand side. The electronics here are not great though, I have had one of my Nikon F100 die when the DX code sensor died. If the sensor dies, the camera doesn't recognize that film is loaded and you cannot force it to load the film so the camera becomes a brick. I spoke to a repairman when my first Nikon F100 died and he said that this is a very common issue with the Nikon F100.
The Nikon F100 has the standard f mount that all Nikons SLR cameras have. It takes all lenses that you can find. I have a large collection of manual AIS Nikon prime lens so being able to use them on the Nikon F100 is a bonus. Even the modern Nikon G lenses should work on the Nikon F100, including the VR functions on the lens. This is great as it means you can handheld shots with VR at much slower shutter speeds. But as it turned out, not all lens are compatible. I shoot with a lot of Tamron lenses and at times, they will refuse to focus. The VR still works but the auto-focusing just refuses to work. If you take the lens off the camera and remount it, then the autofocus will start to work again. It is frustrating but it has been the same story across multiple bodies and multiple lenses. You also have to be careful of the Nikon E lens. The lenses with the electronic apertures will not work on any Nikon film SLR cameras, including the Nikon F6. Some of the new Sigma art lenses also use electronic aperture blades so they will not work with the older film bodies as well. So be careful when you pick lenses for your film cameras.
The best thing about modern Nikon film SLR is the metering system. During the day time, I shoot this camera in aperture priority as the metering is nearly perfect. The legendary Nikon Matrix metering really does live up to its name.  It handles almost all lighting situations perfectly, and I always get a usable frame. This is the closest thing to a bulletproof metering system for a film camera. If I stick a color filter onto a lens, the metering still works perfectly which is a surprise. Usually, I have to use exposure compensation when using color filters but the Nikon F100 works perfectly. At night time when shooting in the pit, I shoot in manual mode. No camera can meter well at night when shooting concerts but in the day time, the metering system is perfect. I have never shot slide film but I would guess that the exposure system is so good that you would get near-perfect exposures for slides as well.
The Nikon F100 works with all modern-day flashes and you can take advantage of the NIKON CLS. I don't shoot a lot of flash-work with film, but I make a lot of use of CLS backstage with my digital cameras and that flash system has never let me down. The Nikon CLS system is outstanding for getting work done quickly. Using flash with the Nikon F100 is really simple, just pop the flash on and you are ready to go. The Nikon F100 has a flash sync speed of 1/250th of a second which is much better than many modern-day DSLR.
The viewfinder on the Nikon F100 is somewhat disappointing. It is identical to the modern DSLR viewfinders and you get 100% coverage of the frame, but the viewfinder is not as bright as the older Film SLR viewfinders. My Nikon F2 viewfinder is much brighter and it is easier to focus manual lenses with. The viewfinder provides all the electronic information at the bottom that you should be accustomed to using with a DSLR. You get your focus confirmation at the bottom of the screen, your shutter speed, your aperture, and a meter gauge at the bottom. All the information that you could possibly want when shooting. Most modern DSLR have the identical system. I like the viewfinder but I wish it was brighter like the older film SLR. Modern DSLR has the same type of viewfinder, so the Nikon D700, D800, D4, and D5 viewfinders are identical in their optical qualities. The viewfinder has an internal diopter which is great as my eyes are getting older now and they need a little help. You can change the focus screen in the Nikon F100 and it is fairly easy to do so. I had a split prism screen in one of my Nikon F100's to help focus with the manual primes but the digital rangefinder was so accurate that I really didn't need to use the split-prism to focus with.
The camera comes with 5 autofocus points that you can select, with continuous auto-focus, single autofocus point, and manual autofocus. You can select the autofocus points with the d-pad at the back of the camera. The autofocus points are all in the center of the viewfinder, so you will have to focus are recompose not matter what focus point you use, so I tend to use the center point only, and recompose once I have focused on a subject. A lot of early DSLR had very similar focusing systems in them. The focus points seem to be pretty good and the focus is accurate and reliable. Except with my Tamron lens, I have had no problems with the focusing system. Even with those lenses, when the autofocus works, it is accurate but that the Tamron lenses will not always lock focus and will just keep hunting or simply not even try to focus at all. I have this exact same problem with my Nikon Z cameras and the FTZ adapter so I am positive that this is a Tamron issue as it happens across multiple Tamron lenses on multiple Nikon bodies(Digtal and Film). You can manually focus with those lenses and use the digital rangefinder in the Nikon F100 and that works perfectly. Focus speed is not exactly blazing fast but it is fast enough that I was never cursed the camera for being slow, causing you to lose a shot. The G lens lock focus much faster than the D series of lenses but that is the same across all Nikon bodies. Generally, I would say that the focusing speed of the camera is about the same and the Nikon D700 with the D and G serious lens, with the one exception that the Nikon D700 has a lot more focus points. I mostly just use the central point and recompose as it works well with back button focusing. Lastly, I should mention that it focuses perfectly fine in low light as well. Much better than any mirrorless camera today. Actually the Nikon F100 focuses better in low light than my Nikon DF or my Nikon Z6.
The D-pad is used to control your focus points and work well but it is not as nice feeling like the modern D-pads that you get. It gets the job done but it could have been so much better. You can lock the focus points so you cannot accidentally change it, which is what I usually do as I only use the central point and recompose after I have nailed the focus that I want. So how good is the focusing? With continuous focusing, it is ok, to be honest, but it can't compete with a more modern DSLR. I seldom use continuous focus, to be honest. I prefer single point focusing which I find to be very accurate. If I get focus confirmation, I am sure that the shot will be sharp. Even when using a manual lens and the digital rangefinder, it is extremely accurate.
Shutter sounds, I usually don't comment on a camera shutter sound as it is not very important to me. I shoot with a Pentax67 which is legendary for breaking the sound barrier when firing off a shot, so the sound of the Nikon F100 is not very important to me, but it is one of the louder Nikon Cameras that I own. I never really noticed this until I started to shoot with the Nikon F80. If you need a quiet Nikon SLR camera, then the Nikon F100 is not the camera for you. When I shoot at concerts and music festivals, this is not an issue. not even a Pentax67 would be heard, but recently I did a photo project in a force evicted Chinese village. I was sneaking around, documenting what I saw and I needed a quiet camera as I didn't want to get into trouble with the local security guards. I chose to shoot with the Nikon F80 over my Nikon F100 because of the difference in shutter noise. If you shoot a lot of street photography, then think carefully about the shutter sound. People will hear this camera when you take a shot. Although the shutter is a little noisy, it is a fast shutter, The maximum shutter speed is 1/8000th, which is way faster than some of my Fuji mirrorless systems that I use. The faster shutter speed can be useful if you are pushing your film and shooting in the daytime. The depth of field preview is also really loud as well. Each time you push the depth of field preview button, it sounds like the camera is taking a shot. I have never heard a camera as loud as this when checking your depth of field before.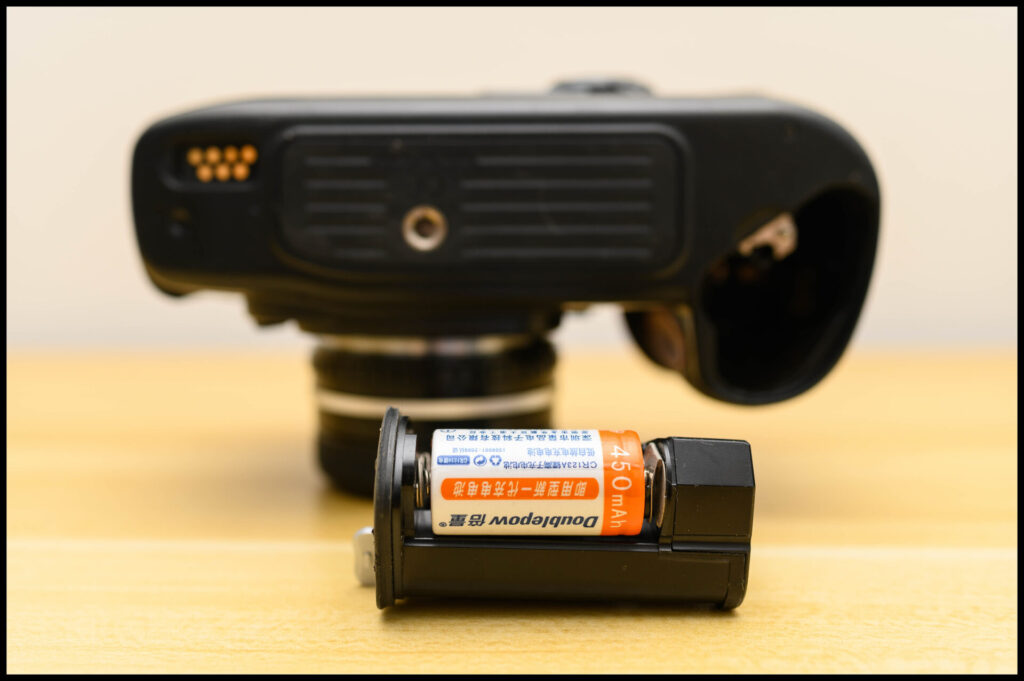 Battery life with the older electronic film SLR is interesting. They tend to use batteries that you will have to purchase online these days as not many shops will be carrying them now.  Very few electronic SLR film cameras include their own rechargeable batteries. The Nikon F100 has two options when it comes to batteries. My first Nikon F100 took AAA batteries. My next two Nikon F100 cameras took the Cr123 batteries. Personally I prefer the CR123 batteries as it makes the camera lighter. I have shot with these cameras with both battery options at festivals and both lasted me all day but it did feel like the AAA batteries lasted longer. This camera is completely Electronic. You need to have power to shoot a shot, to rewind the film, or even to load film. No power means no camera here. Luckily the CR123 batteries are small and light or you can buy AAA batteries in almost any shop still.
Now onto the bad part of the camera, the electronics. Like all early electronic goods, the electronics in the Nikon F100 were not made to stand the test of time. The electronics are getting old and they are failing a lot. All three of my Nikon F100 cameras have failed me with something going wrong with the electronics. The first camera had problems with the film sensor and refused to load film. The second camera just died mid-roll on me and wouldn't power on. The third camera refused to shoot and kept flashing ERR message to me. All three cameras were sent in to be repaired and each time, I was told that it was an electronic problem and it would be cheaper to buy another Nikon F100 than to repair it. These cameras are starting to get old now, and unlike the mechanic SLR, they will break sometime in the future and you will have to throw them away. My Nikon F2 will last me for the rest of my life but most electronic film cameras will be dead in the next 10 years. I have had other Nikon SLR with electronics fail me as well. So far I have gone through 3 x Nikon F100, 2 x Nikon F80, 1 x Nikon N90 and finally a Nikon F70. I live in a very hot and humid part of China so that could be causing failure faster than normal but all electronic film cameras will die sometime in the future. On a side note on failure, be careful with the film back. It is made out of plastic and the clips on the film back can break. I sold all three of my broken Nikon F100 for parts as there is a shortage of parts to repair these cameras now. If it breaks, you probably will have to buy a new camera.
Here are some of the error messages the top LCD can display to you if the camera has some problems.

HI — Current settings will overexpose the shot.
LO — Current settings will underexpose the shot.
FEE blinks — Lens not set to smallest aperture.
END blinks — End of the roll has been reached, rewind film.
battery symbol blinks — Replace batteries, they are low.
E — No film is loaded in the camera.
E blinks — Film remains in the camera after rewinding. Remove film and reload.
E and ERR blink — Film didn't load correctly; reload film.
F– —  Lens has no CPU or no lens attached.
P or S blinks — Lens has no CPU to support P or S exposure mode; camera sets to A mode automatically.
ERR blinks — Camera detected a malfunction. Press shutter release again—if the problem persists take the camera to a repair center.
BULB blinks — Cannot set bulb shutter speed in S exposure mode; set camera to M mode or select another shutter speed.
ERR, ISO, and DX blinks — Non-DX coded film or incorrect DX code detected; set ISO manually.
Shutter speed blinks — Shutter speed is faster than the flash sync speed. Shutter speed is automatically set to 1/250.
BKT —Camera is set for exposure or flash bracketing.
+/- blinks — Camera is in the middle of a bracketing sequence. Press shutter release to complete or cancel bracketing.
eye blinks — Camera was set to red-eye reduction, but the attached flash does not support that function. Cancel red-eye or attach an appropriate flash.
O__ and frame counter blink — Low battery power caused the film to stop rewinding. Replace batteries and start rewind operation again.
FVL blinks — Camera's film data is full (80 rolls normally, 160 rolls with memory upgrade); download data to PC. Turn power Off and back On to clear indicator and stop recording new data.
LCD all black — Camera is too hot (but likely still operable).
LCD slow — Camera is too cold (but likely still operable).
Finally, let's look at some sample photos from work. As I have said previously, I shoot film at work just for my own personal enjoyment. Clients don't buy black and white film shots. If it is a shot during the day, then it will be most likely be Ilford Pan400 shot at box speed. All night shots are Ilford Pan 400 pushed to 1600.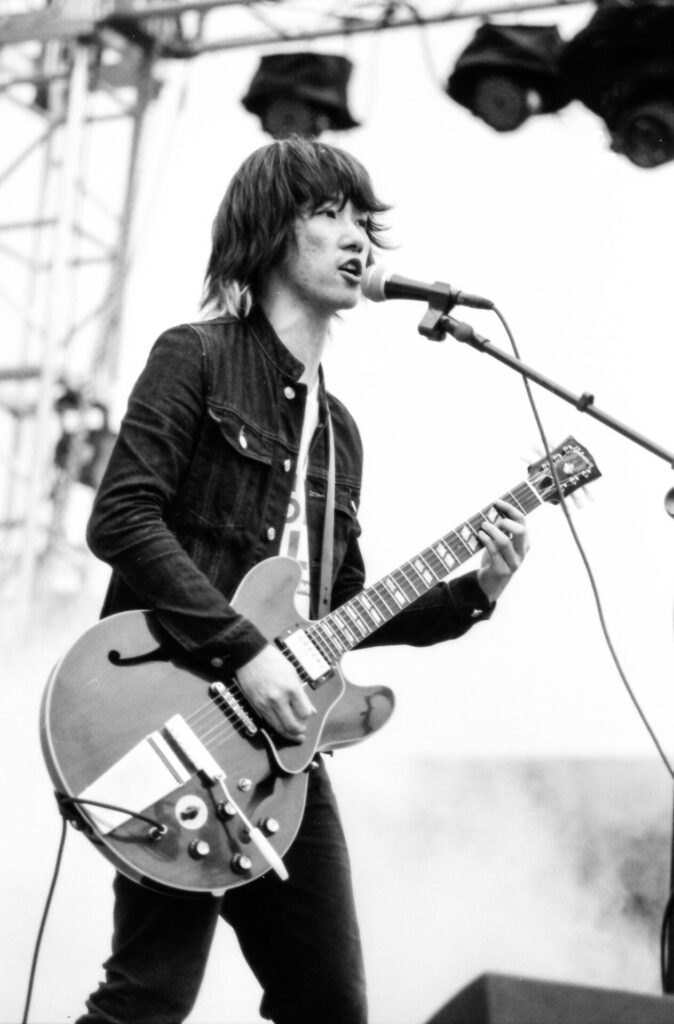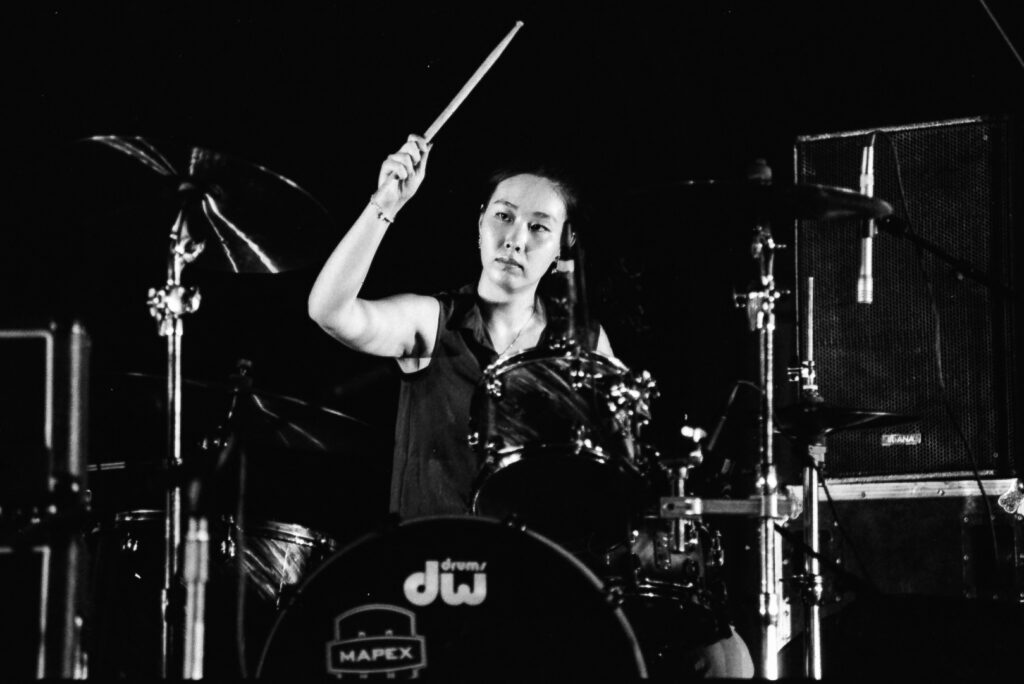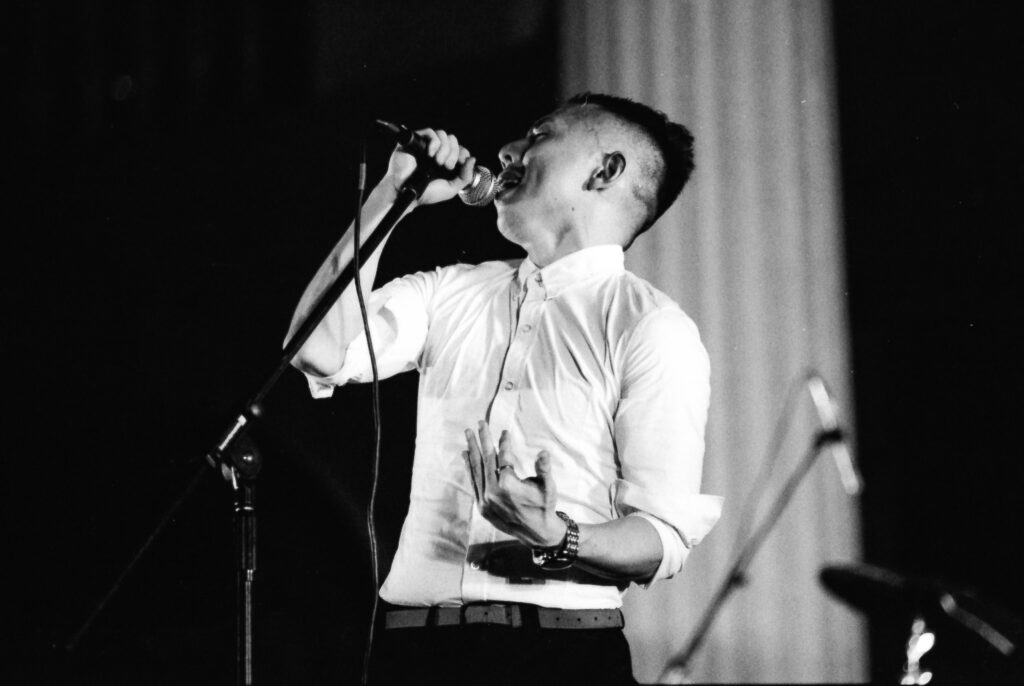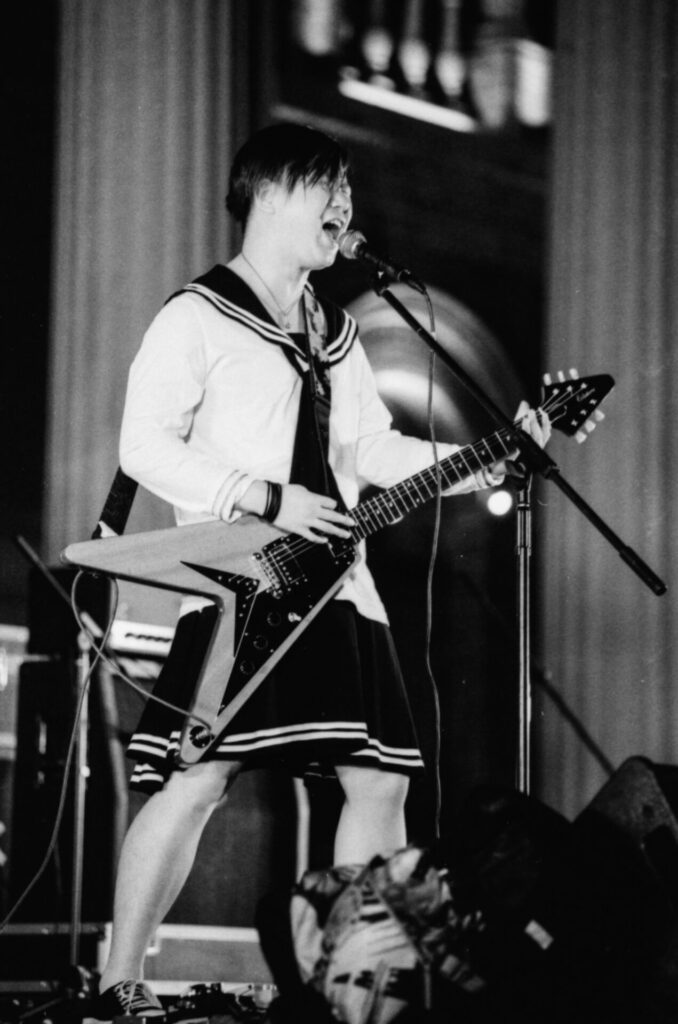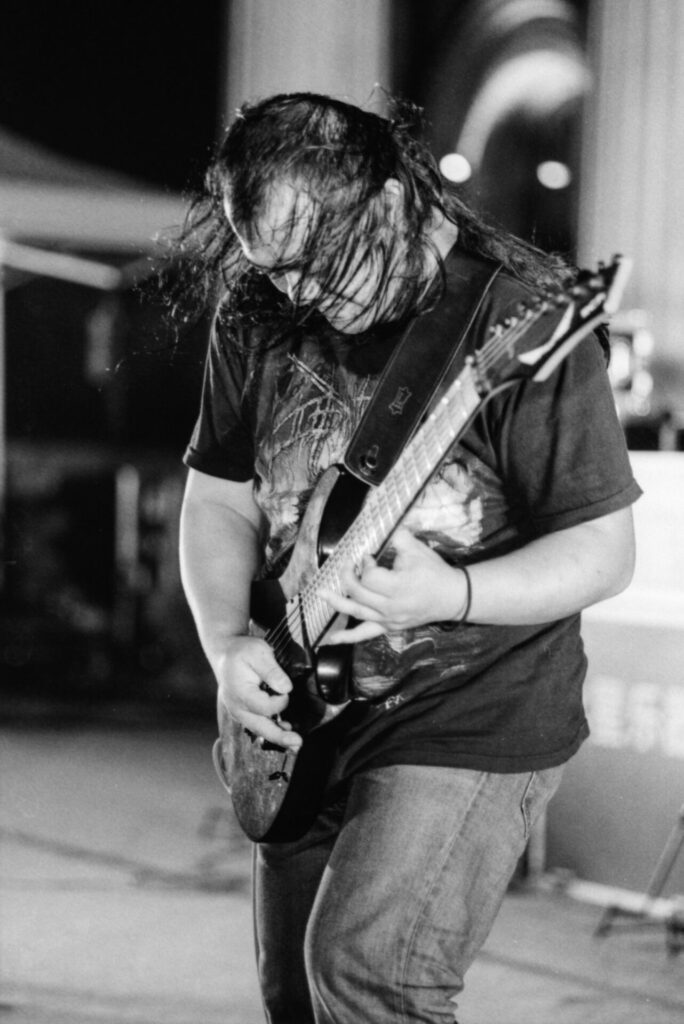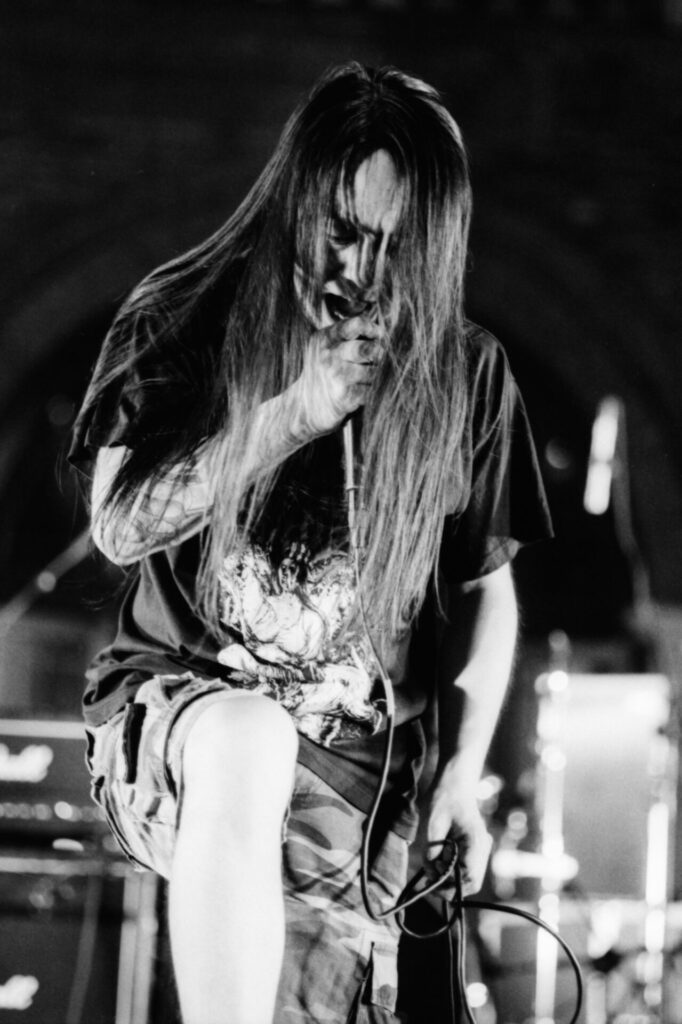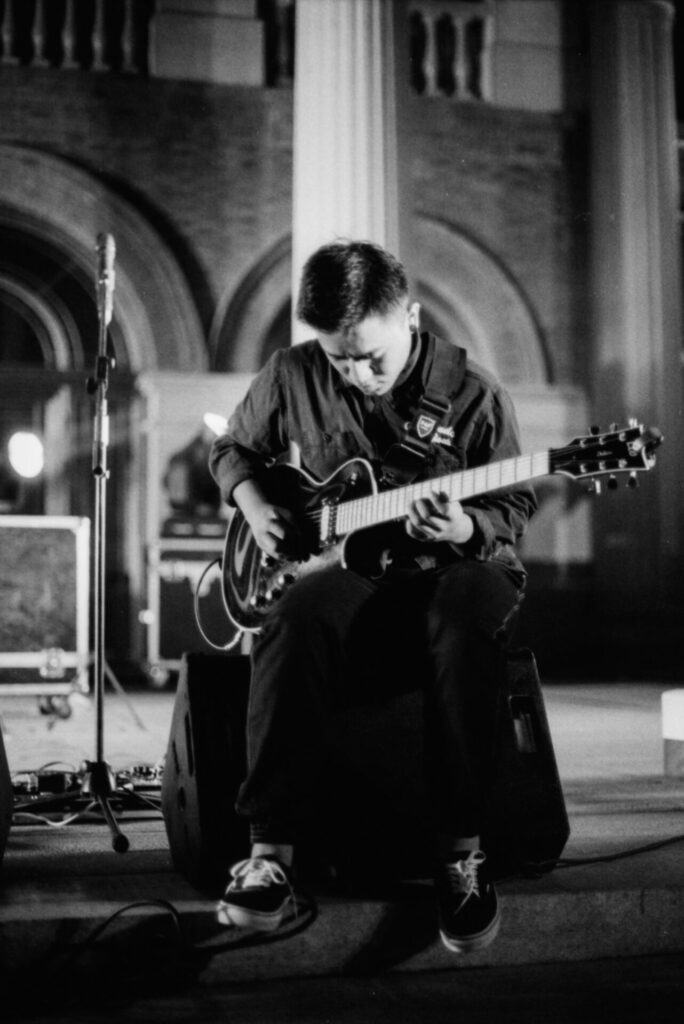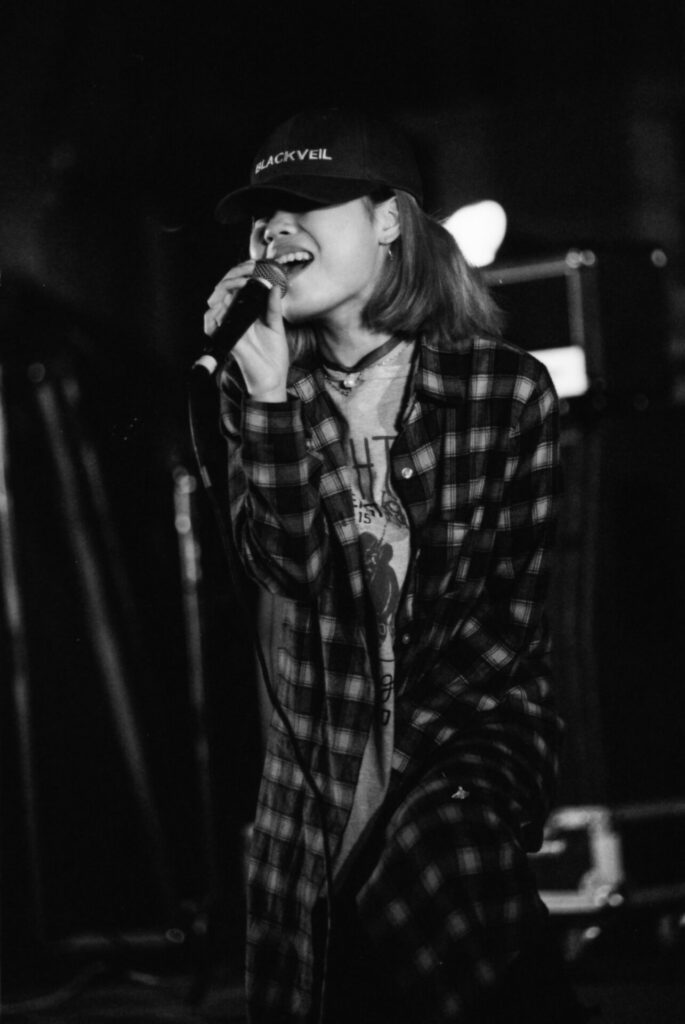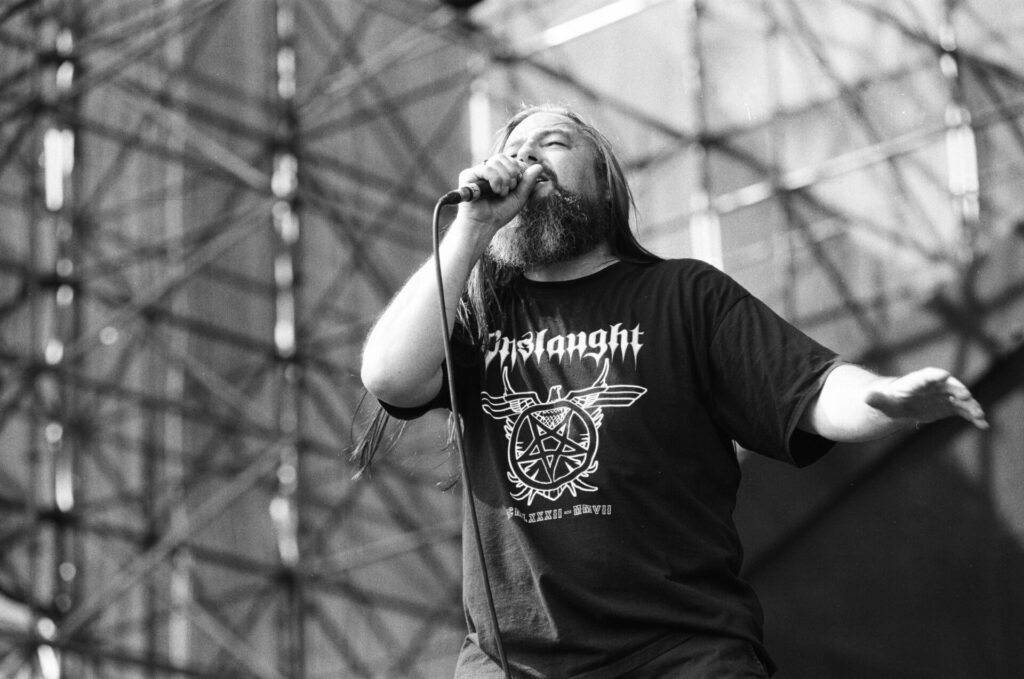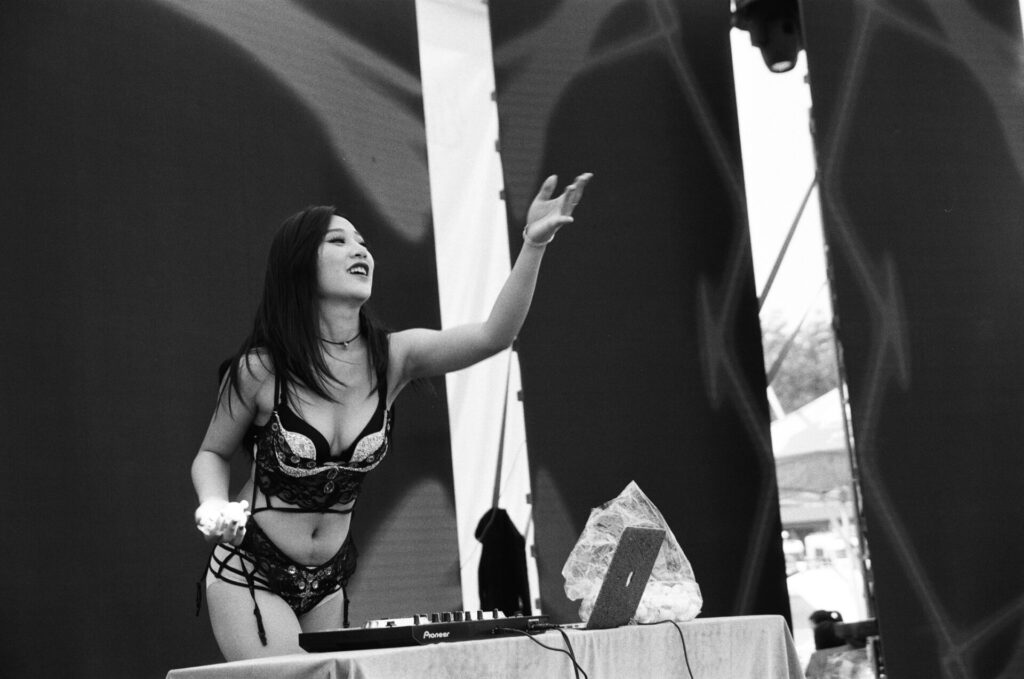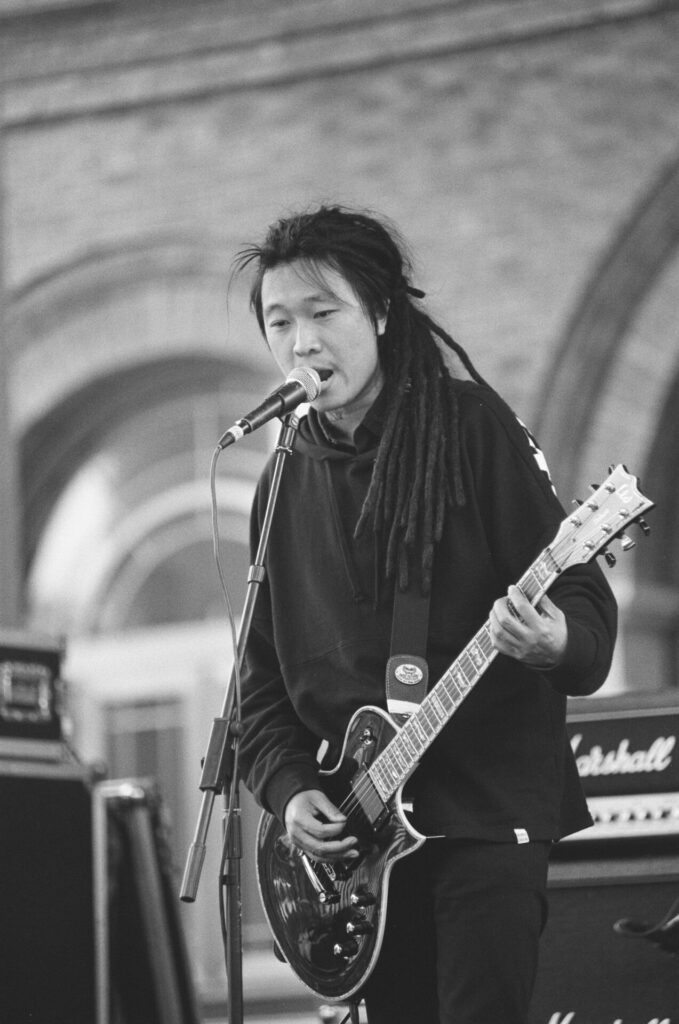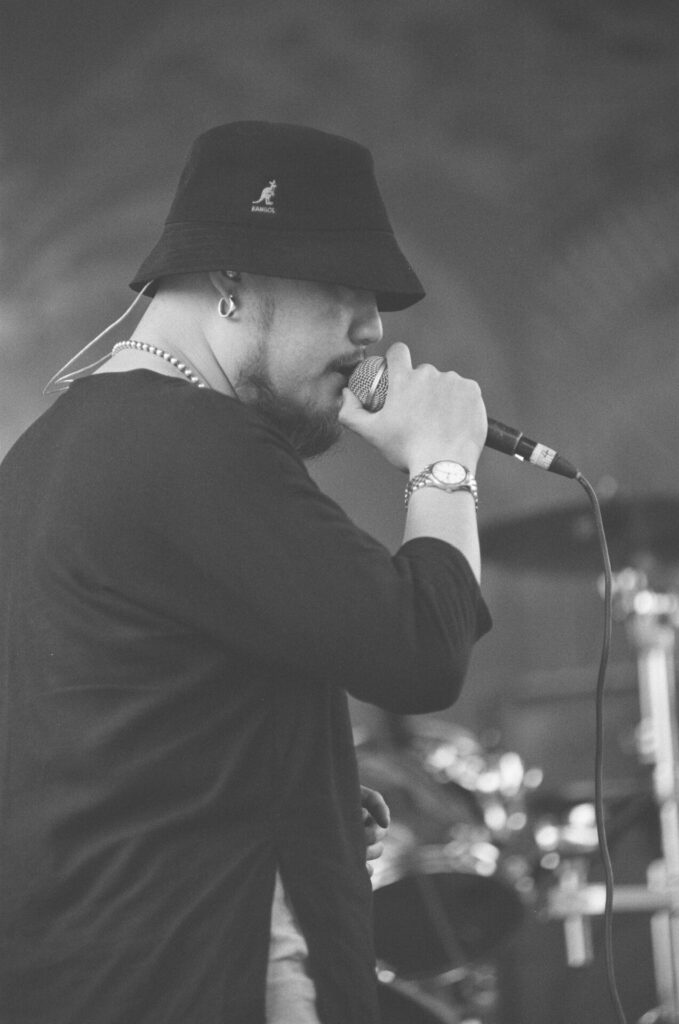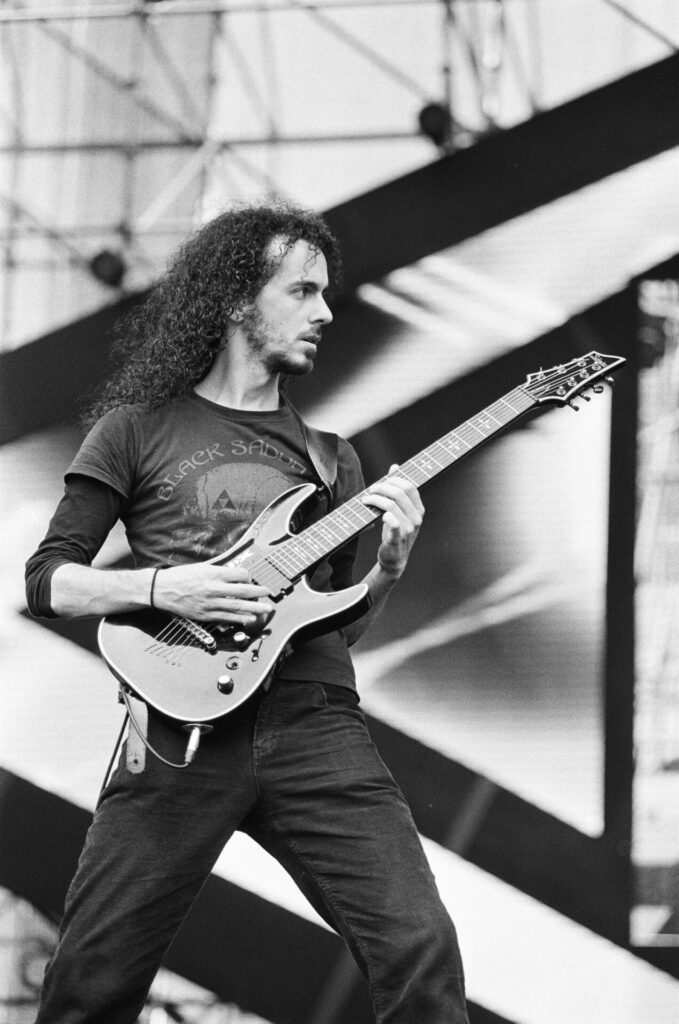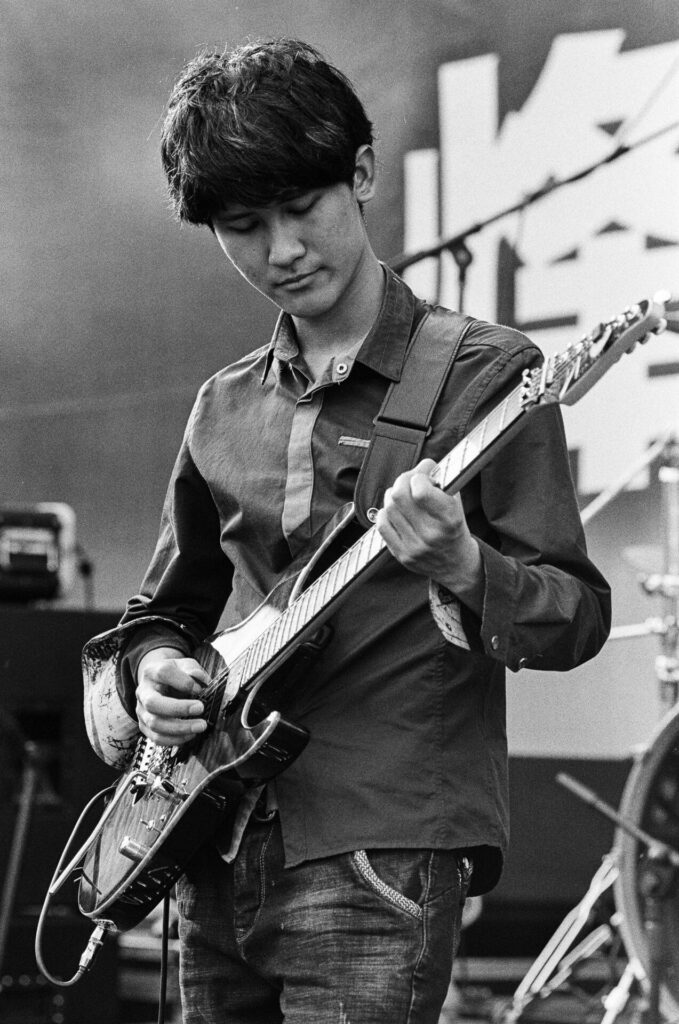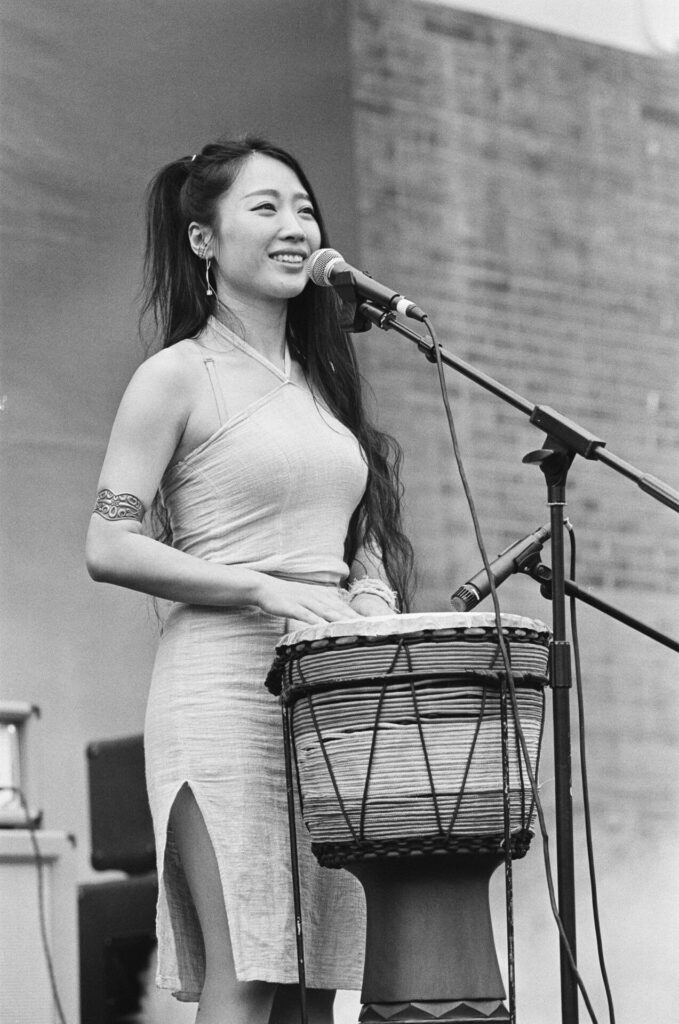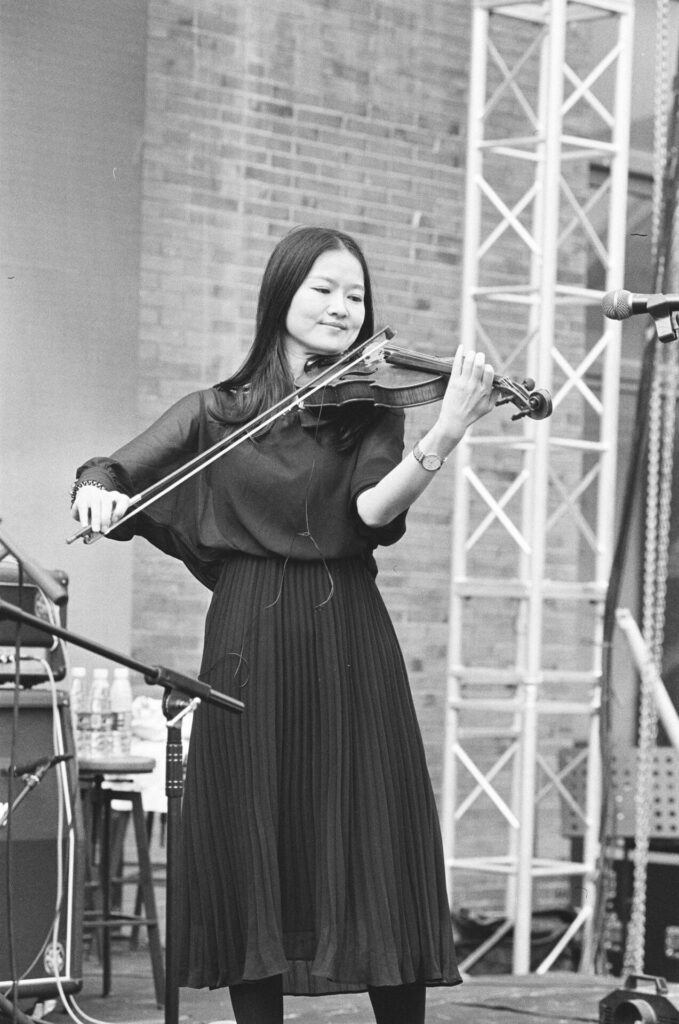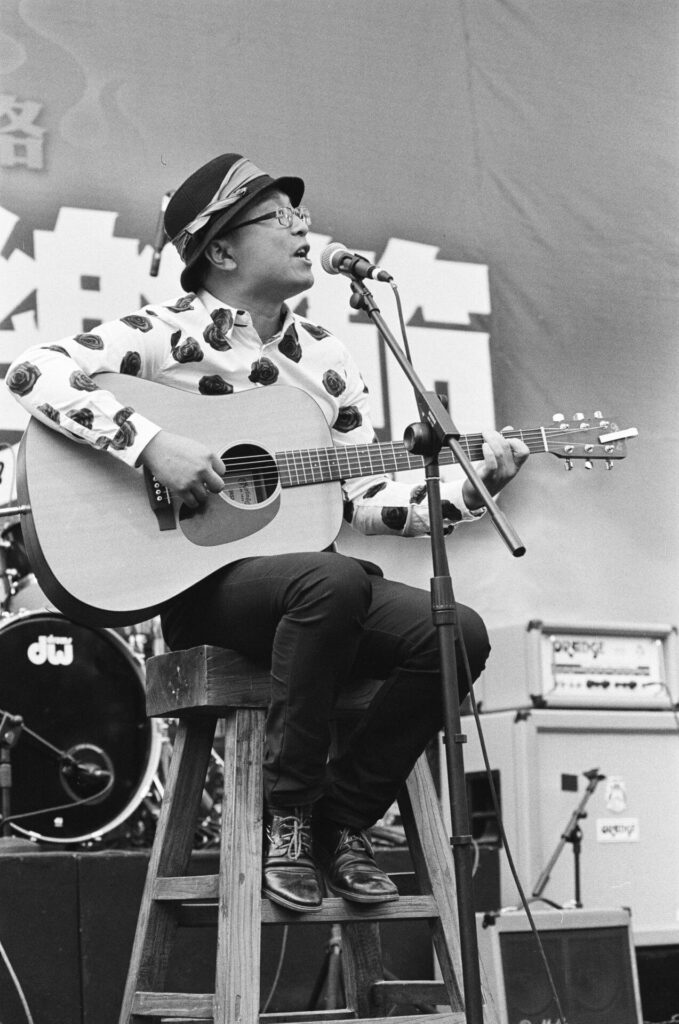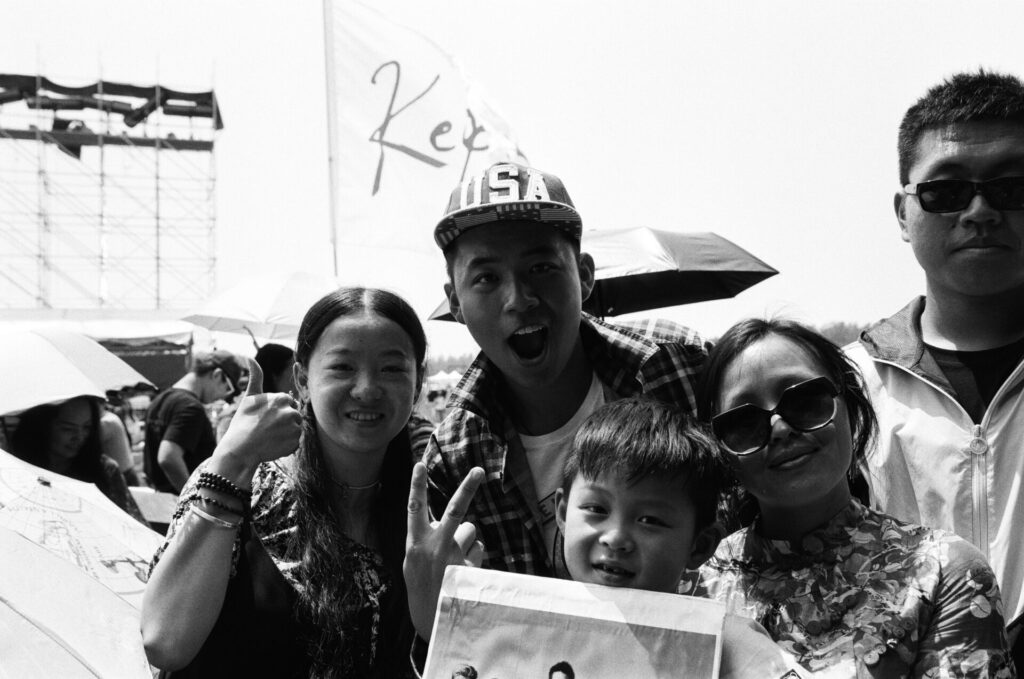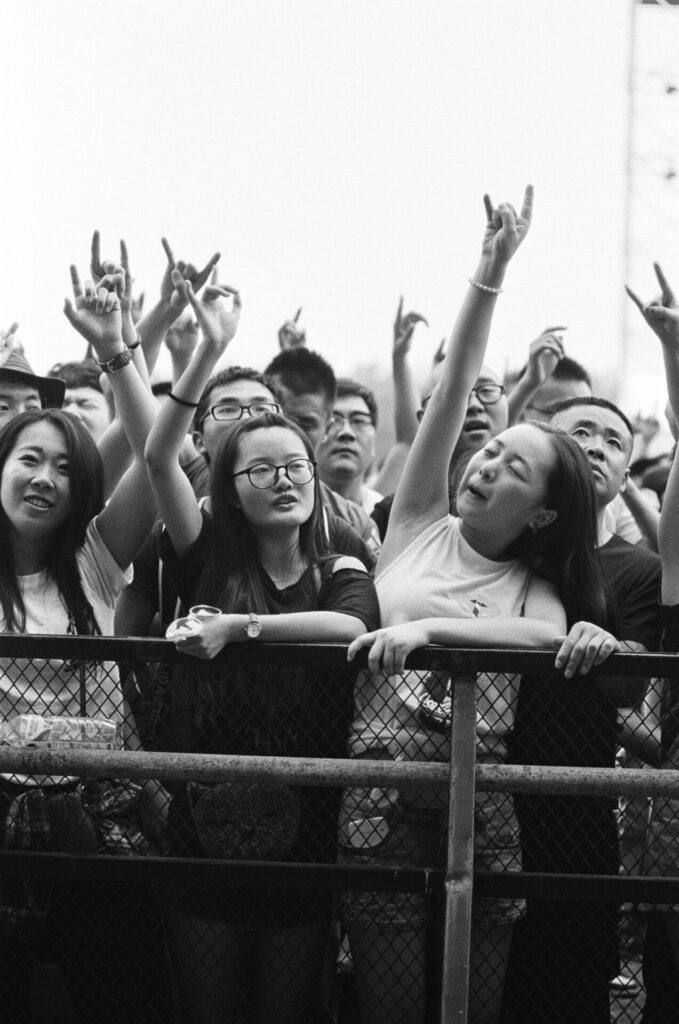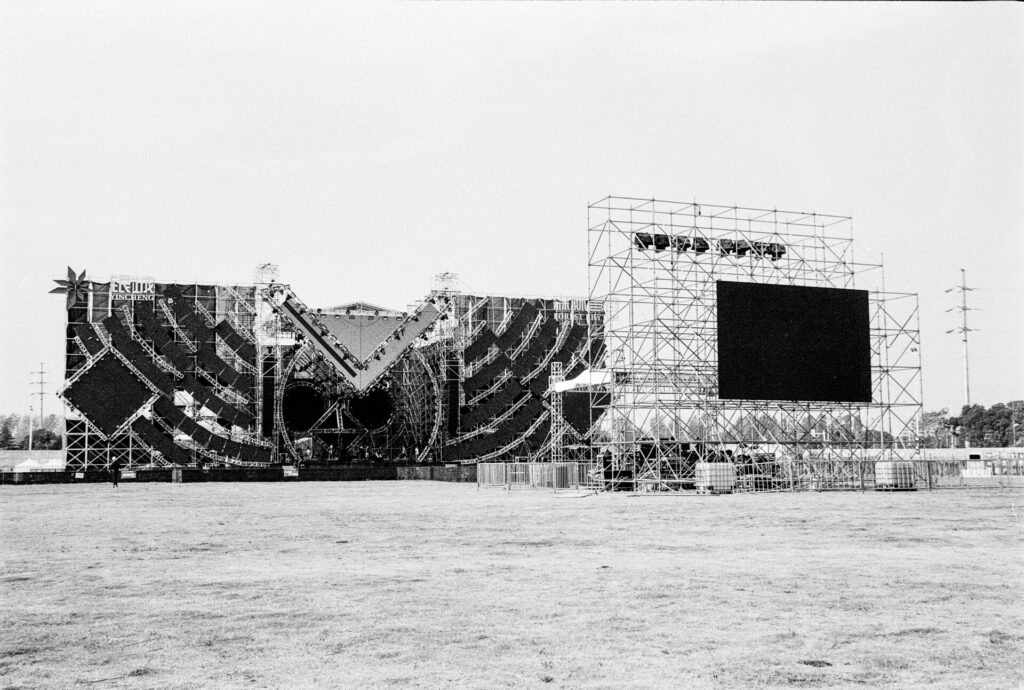 Music is not the only thing that I shoot for work. I work a lot with graffiti artists as well. Once again, most of the shots are color digital but I try hard to get some stuff on my film cameras. But most graffiti is usually shot with my Nikon F2 purely because I have more time at graffiti festivals and I prefer to shoot with the Nikon F2 when time is on my side.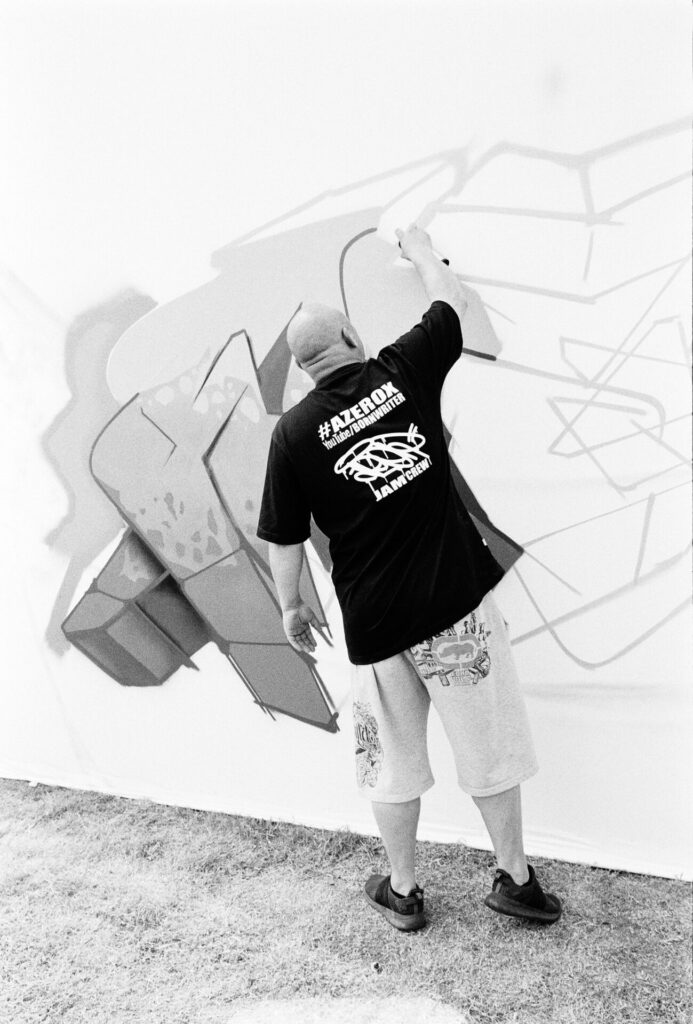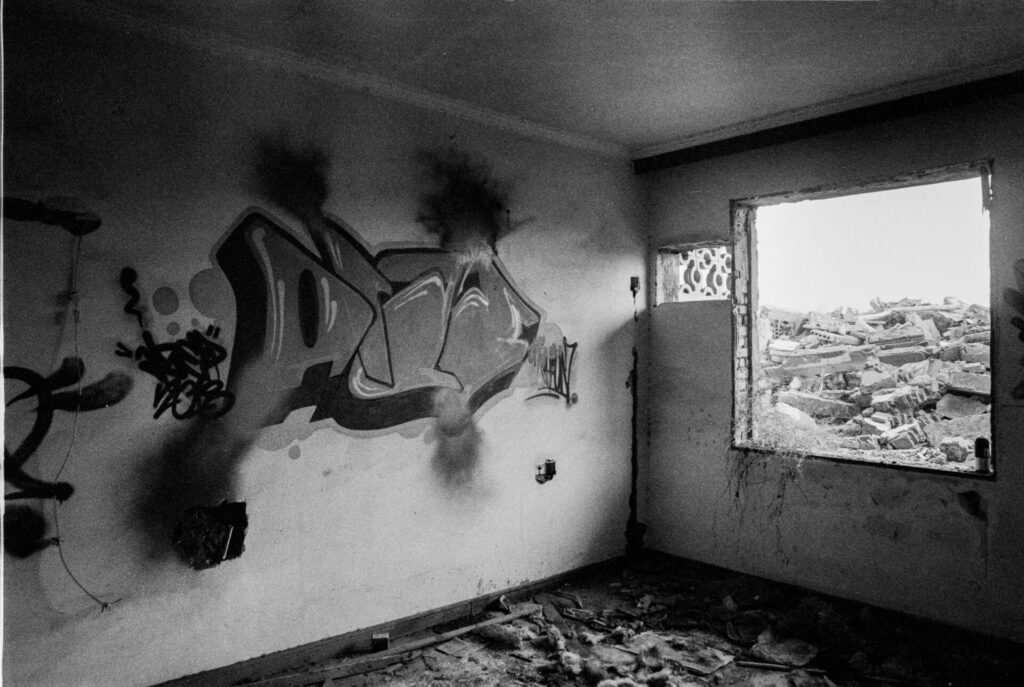 Some photos with the Nikon F100 outside of my work. I don't often use the camera outside my work setting though as it is larger than my Nikon F2 and the shutter is loud if I am shooting in the street.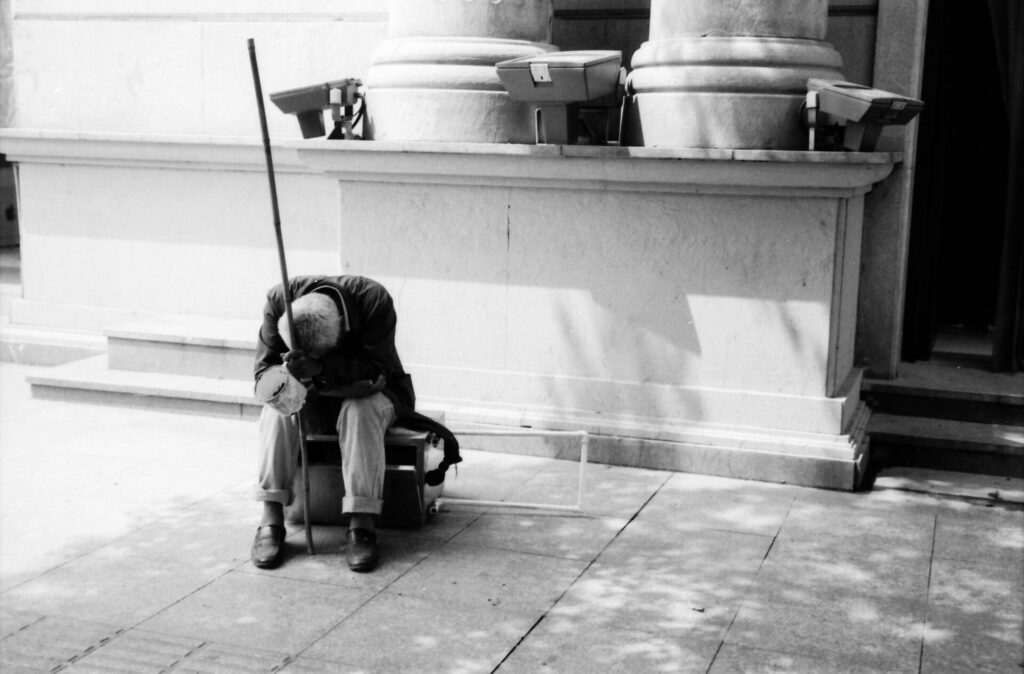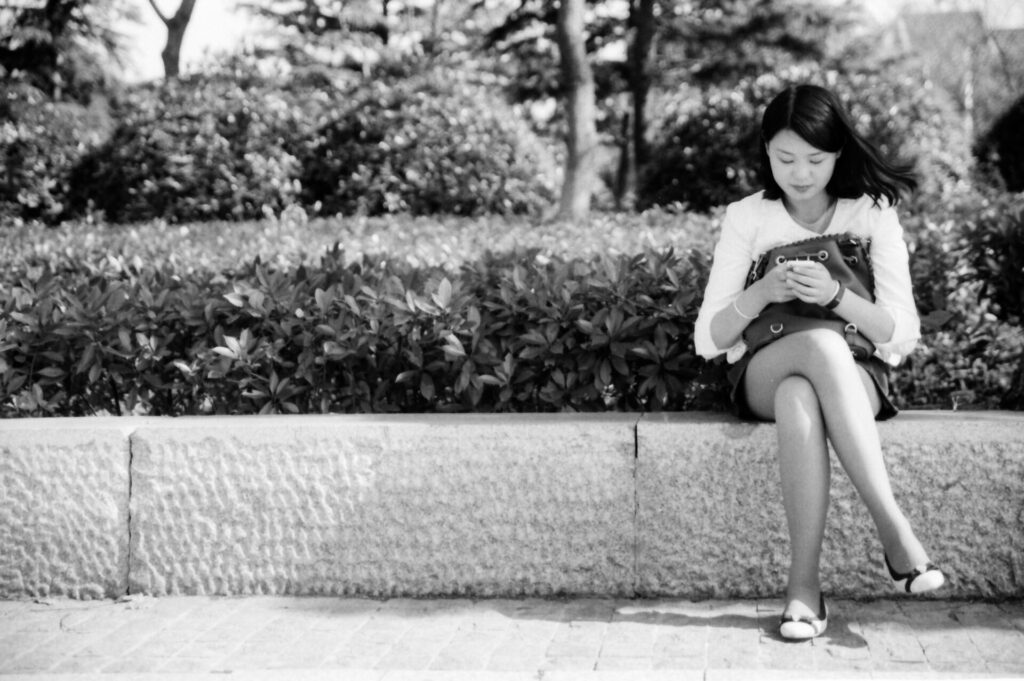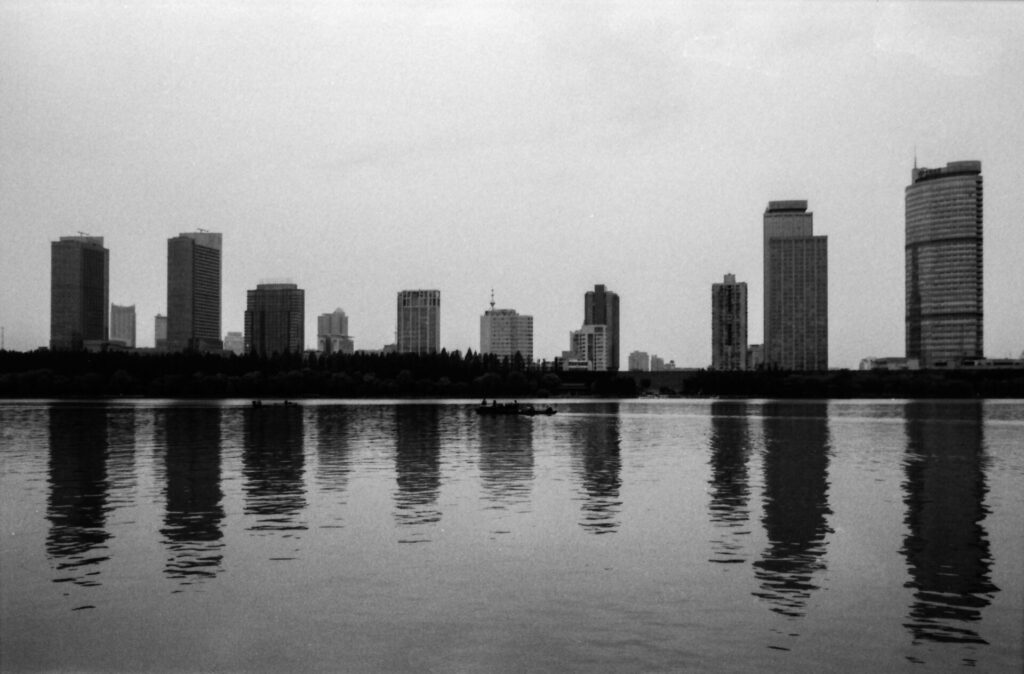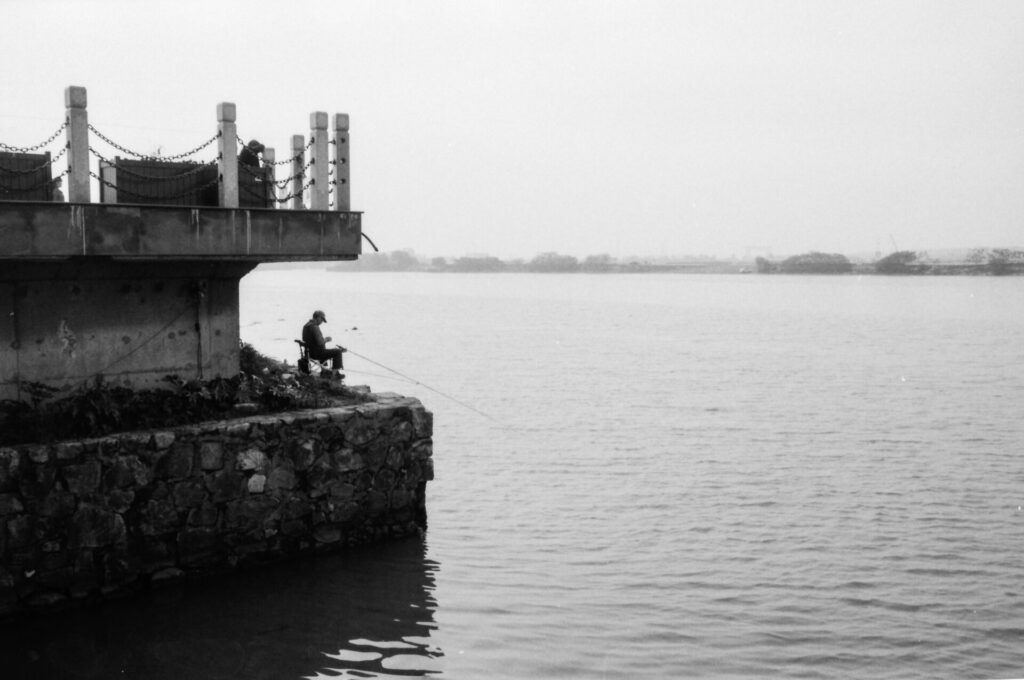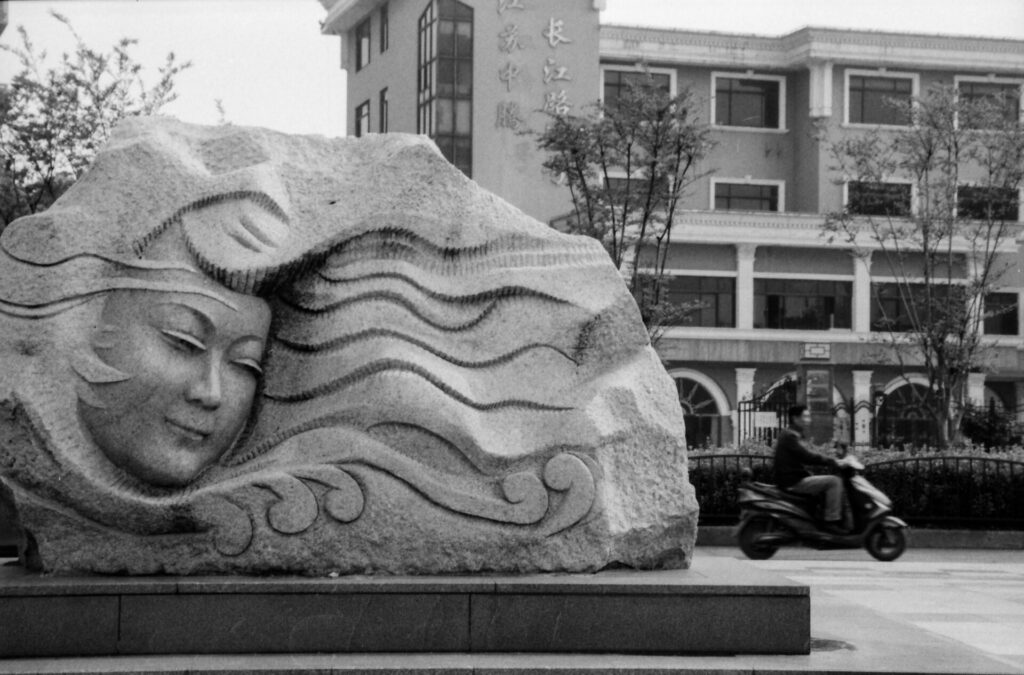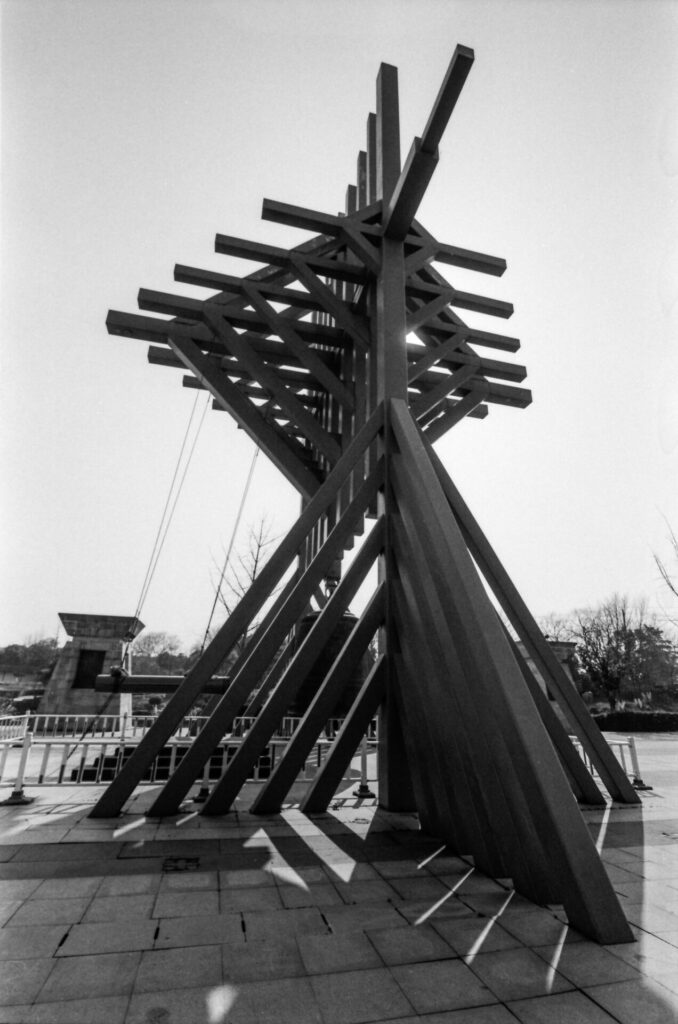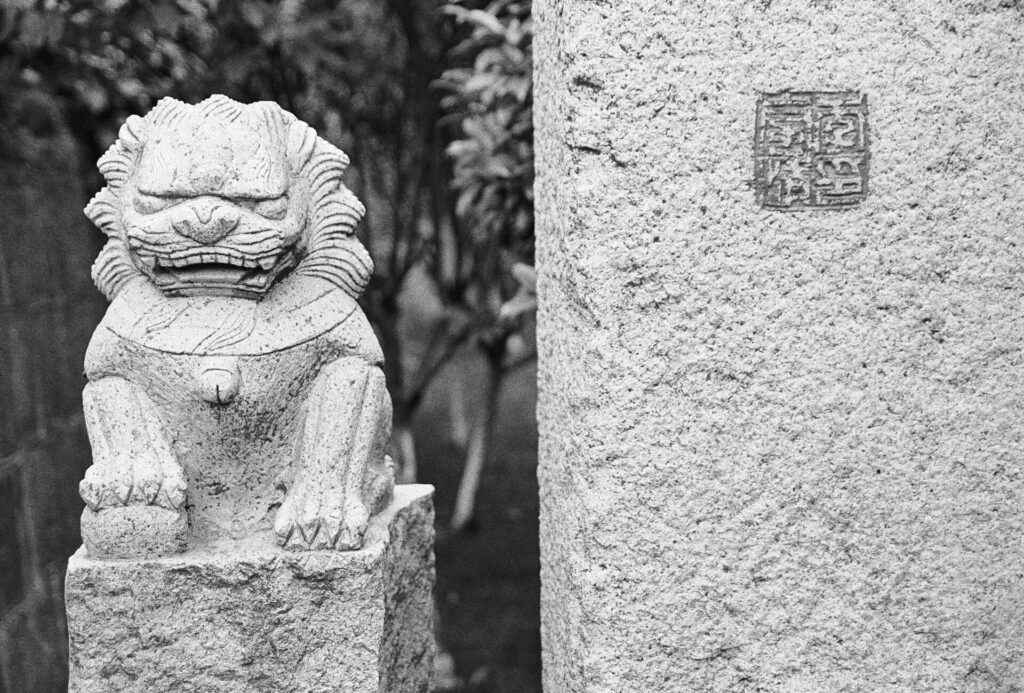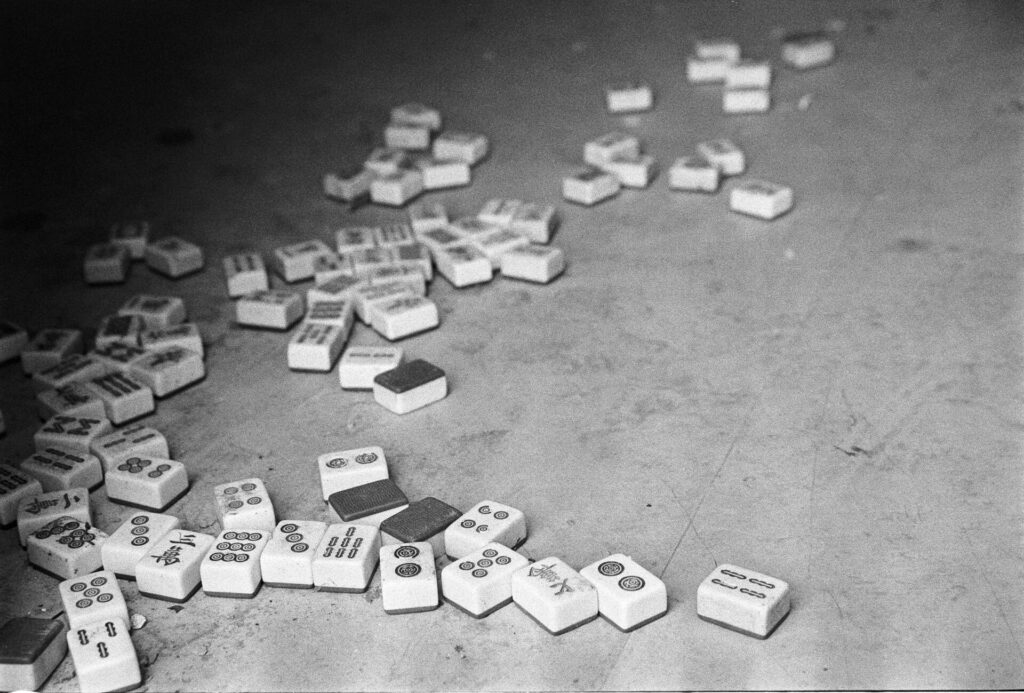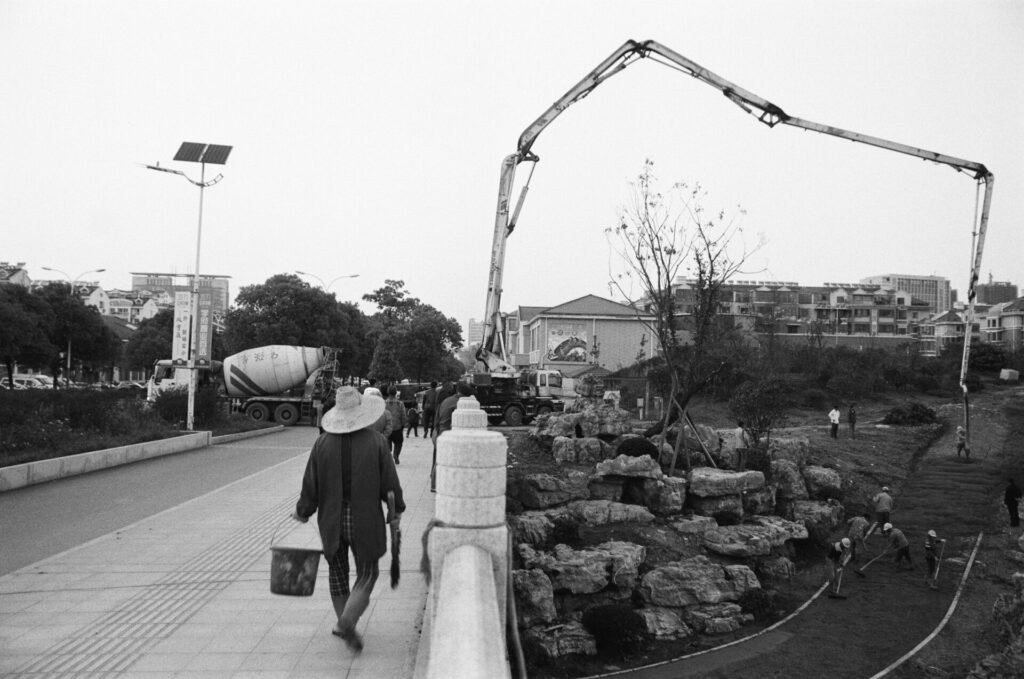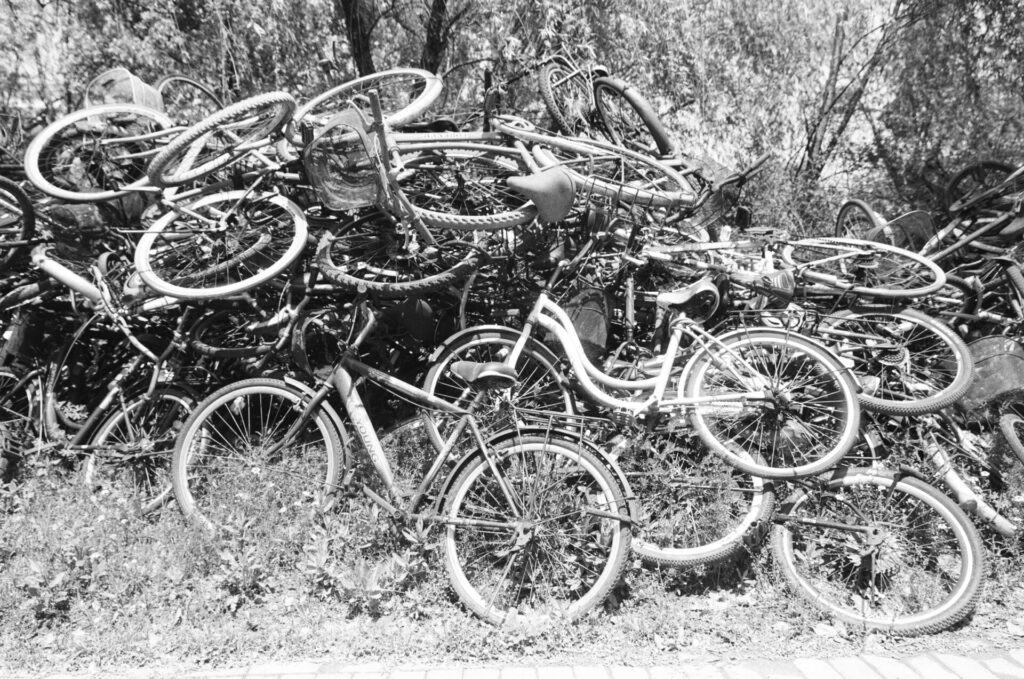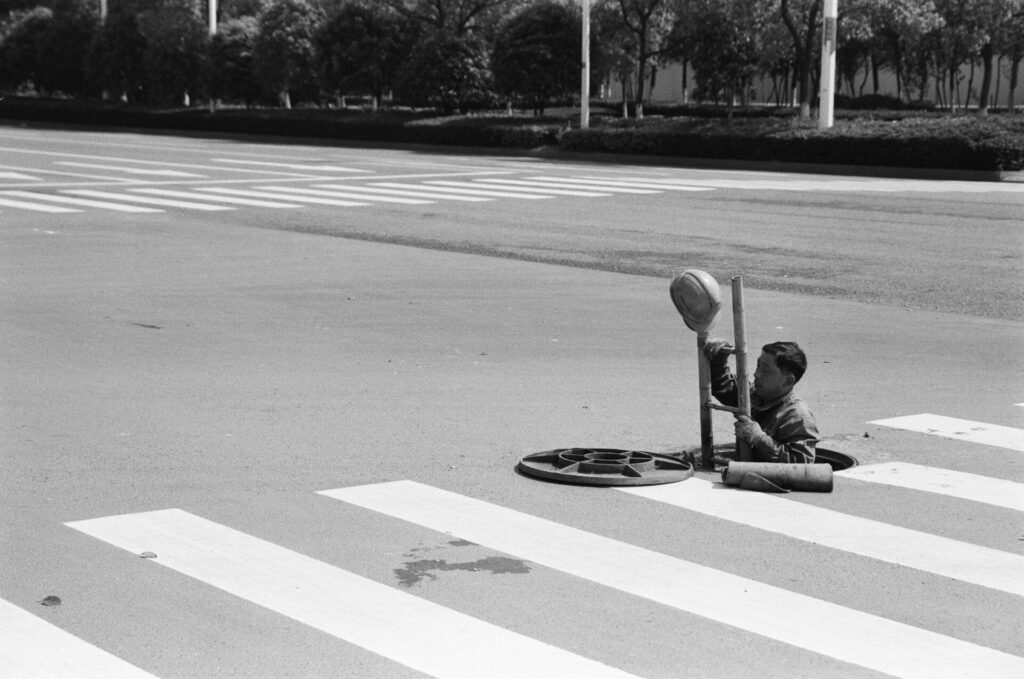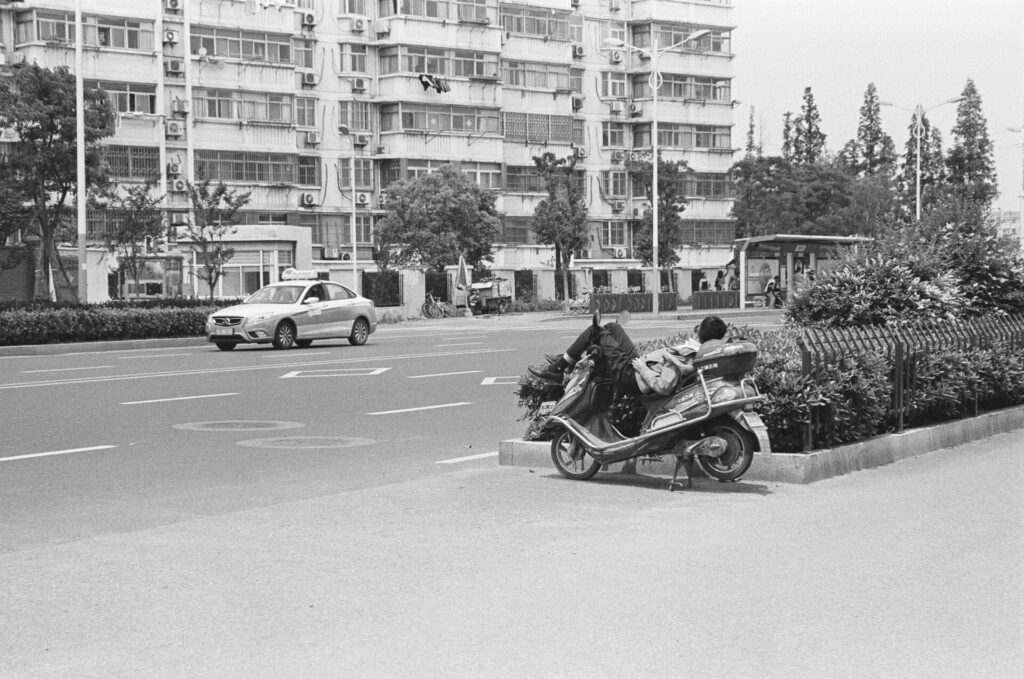 Shooting in the street is possible if you're not scared of people looking at you or confronting you for taking their photos. As a foreigner in China, this happens to me almost every single day so I have grown a thick skin over the years and if people confront me or call the cops(happens a lot as foreigners with cameras are almost always seen as foreign spies), I simply shrug my shoulders and either walk away or wait for the cops to arrive. As soon as they see it is a film camera, they usually get let me go and tell me that I have the right to take photos on the street. The Nikon F100 shutter is loud and it will get you noticed, so it is not the best camera for people who prefer to be more circumspect. I find that the Nikon F2 or the Seagull 4A TLR gets me into less trouble with the general public because they look like old cameras. The Nikon F100 looks like a modern DSLR to the general public.
The F100 is a workhorse type of camera. It is designed to get work done. It has a great focusing system, its metering system is outstanding. The camera is comfortable to use and you can put on almost any lens and use it right away. I think this is the perfect camera for someone looking to do a serious film project or a first-time film shooter. The Nikon F100 is not extremely expensive these days, but it does offer a lot of features and I think it is a much better buy than other Nikon film cameras like the F70, F80 which are substantially cheaper but they are crippled in many ways. If my current Nikon F100 dies, the only option that  I would have would be to buy another F100 or an F6. I am worried about the electronics in these cameras, but cameras are tools and tools do break from time to time. Nothing lasts forever except for my Nikon F2. I am sure that when this camera came out in the 1990's it must have been a godsend from Nikon, similar to how the Nikon D700 was a godsend to me in the late 2000s. Even though I have been through a few of these bad boys by now, I would still recommend the camera to people looking to get into film for the first time. The rock-solid metering, the autofocus, the f-lens mount, it is almost everything that you could want or need. The only people who should not look at this camera is someone who has a lot of glass for another system. If you have Nikon glass, and you want to shoot film, this is the first film camera that you should buy.
Pros
A solidly built SLR film camera.
Good solid autofocusing system.
Great metering system.
The F mount on Nikon means that you have hundreds of lenses to choose from, including the G series of lenses.
You can use modern flashes and make use of Nikon's excellent flash system.
Fast shutter speeds
Cons
Electronics on the camera will die on you sometime in the future.
The plastic film back can break if you are rough on it.
The shutter is probably the loudest out of all Nikon SLR cameras.
Shaun.