Concert Photography Lesson 7
All the lessons up until now were all about what you should do at a concert or festival, today we are going to look at what you should not be doing at a shot. Some of this may sound pretty common sense but I have seen all of the things we will talk about today, many many times. So today is basically how to be professional and how not to be an asshole in the pit.
The first thing that you should not be in the pit is the fanboy. The pit is no place for dancing and singing. People are working there. Be respectful and do your job.
The next thing you should never do in the pit is reach. Reaching is when you hold your camera above your head to get a shot. This is bad because it blocks all the photographers behind you from shooting and you can block the view of the crowd as well. Remember the crowd pays money to be at the show, so show some respect and don't block their view.
The next big NO NO in the pit is being selfish when shooting and blocking everyone else shooting in the pit or watching from the crowd.
This is the next thing No No that drives me crazy, and that is walking in front of me while I am shooting. Walk behind me or go under my lens, but don't just walk across my line of sight while I am shooting.
The next big NO NO is very simple and common sense. Don't be a pervert in the pit. Sometimes when shooting ladies on the stage and they were skirts, it is very easy to see up their skirts. Don't go shooting up their skirts for your own personal enjoyment. You give all photographers a bad name by doing this. This is a huge problem here in China and many female musicians now hate photographers and restrict our shooting now because of some of the old perverts shooting in the industry right now.
Next major mistake to make in the pit is to use flash. Almost all shows will say no flash, so don't use flash, don't put the flash onto your camera. Be considerate to the artists on stage and to the photographers behind you.
Don't shot with a monopod or tripod in the pit. Even if the security will allow a tripod or monopod in the pit, they will get in the way of everyone and someone will bump into them during the shot. The one except to this rule is video guys. If the event is being streamed live, then there will be cameramen in the pit with tripods, and maybe even a crane operator. Make sure you do not bump into them or catch their cables. Watch your footing and be aware of your shooting space.
The last big NO NO and this one drives me very crazy, but if you are shooting in the pit, make sure you have a DSLR or similar quality camera. If you are shooting with a phone, tablet or point, and shoot camera, then you should not be in the pit.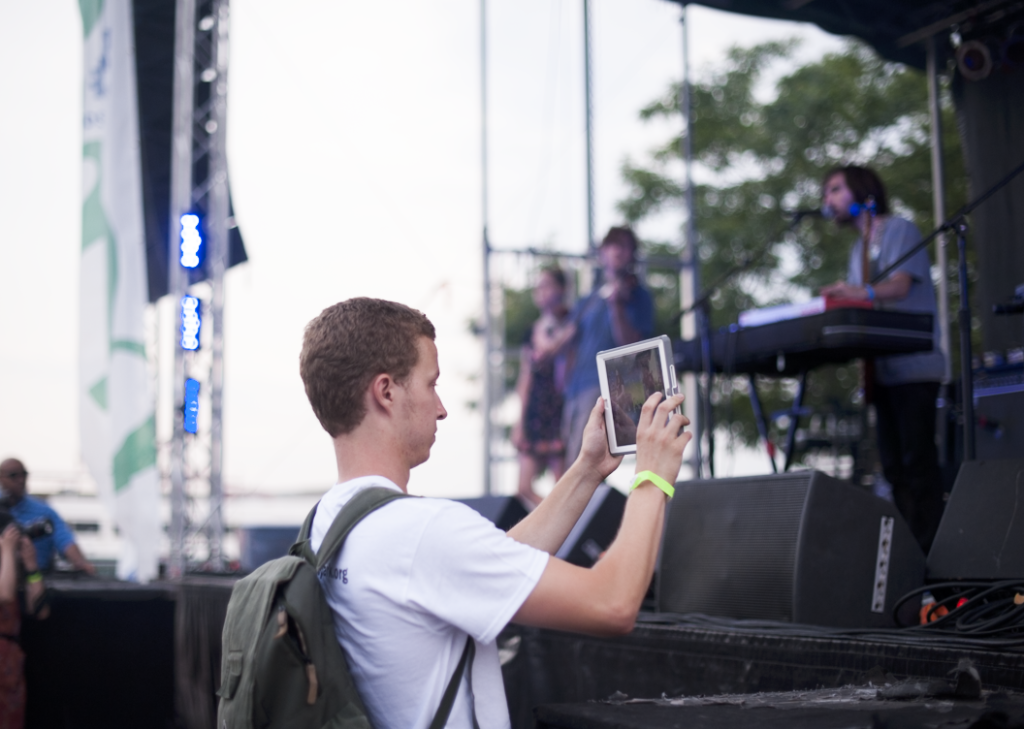 So what are some common sense rules when shooting in the pit? First rule that most seasoned shooters follow and are really simple, when moving in the pit, you move behind someone, you do not move in front of them unless the pit is extremely crowded, and if you have to move in front of them, make sure you duck way down below there lens level so you do not get into there shot. Most of us generally have a 2 or 3 strike policy, if you get into one shot and you apologize, then it is cool, do it a second time and we will get a little grumpy and get into a shot for the third time and there will be some problems. You got to be respectful of the other photographers working in the pit. We are all there doing our job, and if you are respectful and helpful to other photographers, they might help you in the future. I have shot festivals before where you needed different passes for each band that played and some of my friends in the pit got me passes for the bands that I did not have passes for. Friends are always a good thing to have in the music industry.
The second common rule is not to stand in the same spot all the time. Get your shot and move on. We all have to cover different shots and someone will need to shoot from where you are standing. Don't rush but once you got your shot, move on to the next shot. Don't hog one position for the whole show.
No there is a lot more advice to give than just what to do in the pit. Some other basic tips are, make sure you got some sunblock on if you are shooting a whole day festival. Don't drink too much alcohol but stay well hydrated during the day.  A lot of festivals offer free alcohol backstage and some photographers get really wasted before the evening arrives and they are in no condition to shoot the final few shows of the day. Make sure you are capable of shooting the main act of the day and that your hands are nice and steady when you are shooting. Drink after the show is done, not before it. Make sure you bring some food with you, as you don't want to eat the food at the festivals and get sick.No one will stop the show for you if you get sick. Make sure you have enough memory cards with you and that you have back up batteries and at least one back up camera. Be prepared and then you will seldom run into trouble.
Make sure you prepare for rain. Bring a raincoat with you or a jacket. If it rains, the show will go on and you have got to shoot in the rain. No exception for that. Having weather sealed gear is a must though.
The last tip I can give you is to bring something to sit on if you are shooting the whole day. I use to bring a little stool with me to a festival so I could sit down between sets at the stages but my camera bag is my stool now. I highly recommend shooting out of a pelican case, they are waterproof, and you can sit on them when you are tired. I will never shoot another show without my pelican case right now.
At the end of the day, remember that you are in the pit to do a job, but try to enjoy the experience as well. People are there to work hard but if you don't enjoy your work, why go through all the bullshit to get there. Getting into the pit can be a real pain in the ass at times, so once you are in there, enjoy the moment, get some good shots and make some money.
Next lesson, I will go over some of the ways you can make money with the photos you are shooting at the shows. This will be a difficult lesson to write though as we all make money from photography in different ways. Next week will be the way I make money from all the shows that I shoot. But until next week. Happy shooting.
Shaun.