Shooting small stages at a concert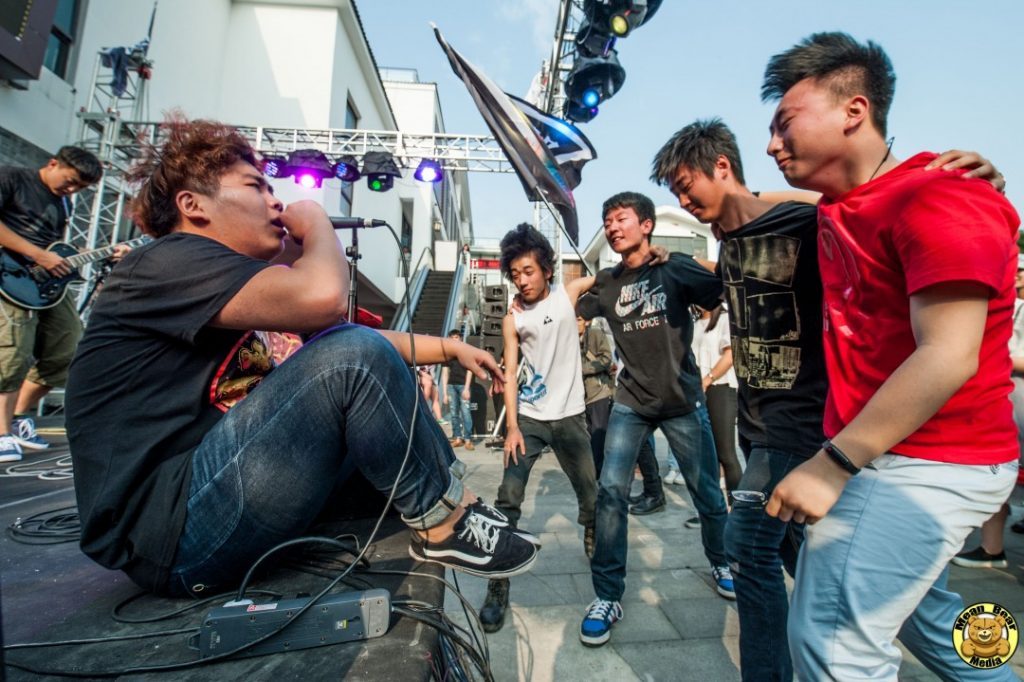 Music photography is not always all gilts and glamour. Sometimes you got to shoot the small shows and sometimes these are extremely difficult to shoot because they have tiny stages and absolutely no pit or security area to work from. These type of events are actually more difficult to shoot than a massive festival and require more technical skill because of the circumstances that you will be shooting in.
Now when shooting small shows like these, there are two things that you got to remember. The first thing you got to keep in mind is that you will be shooting from the crowd, so you got to be careful with your gear and with the people around you. Most of the people at the show will be music fans and they will be willing to let you to the front if you look the part but you got to remember that as the night goes on, they will drink and get more worked up and accidents can happen. So be careful, watch your lens. A beer bottle or a mobile phone could easily bang against your lens or scratch the front element. So you have to be mindful of your gear. Secondly, you got to be vigilant in protecting yourself. A couple of hundred moshing fans can easily hurt you if you are in the wrong place, at the wrong time.
At a small show, I shot this year, everything was going well, but in the evening, the crowd was really wild and going crazy, and while I was shooting some crowd shots, someone flicked a cigarette bud at me and hit me in the eye. This little thing ended my night of the shooting and because I could not finish shooting the show, I lost the contract. You have got to be careful at small shows. You just don't have the security to look after you and you don't have a shooting pit to work from.
The next thing that you go to worry about at small shows is your gear. Normally at a big show, you will have a media area or media tent and you can store your gear in there or you can even store your gear in the pit sometimes if it is big enough, but at small shows, there are no places for your gear so you've got to keep an eye on your gear all the time. At small shows, I normally team up with another photographer and we watch our gear together. Photography gear is expensive and it a high-value target for most thieves. So keep an eye on your gear while you are shooting. At the last small festival, I simply took too much gear with me. I would recommend that If you are shooting a small show, just pack the minimal gear that you will need and shoot with a small bag that you carry on you at all times. I will not take my pelican case to a small show again.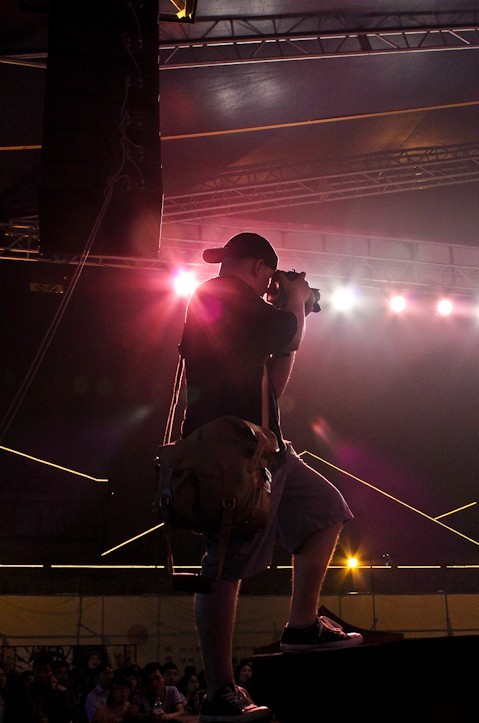 In the picture above, I was shooting a small show and I was worried about security at that time. There was a lot of anti-foreigner feelings in China in 2010 and a lot of foreigners were getting attacked so I carried all my gear in a shoulder bag and keep the bag on me during the whole show. If I need to leave the show quickly because of some trouble because I had all my gear with me already. Luckily I never had any problems at the shows in 2010 but I am used to shooting with my gear on me at all times.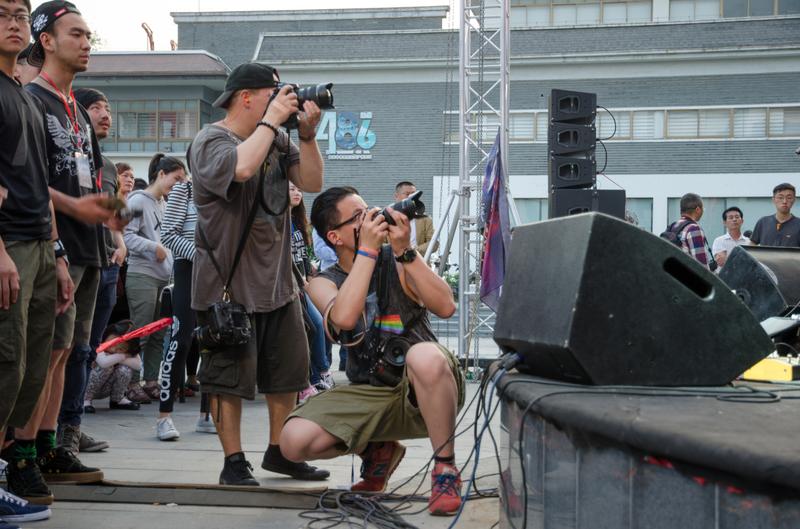 I am the photographer standing in this shot. Look at my gear. One camera has my Tamron 15-30mm 2.8 lens and the second camera has my Tamron 24-70 2.8 lenses. Both cameras have a lens with a wide field of views. When shooting a small show with a small stage, you are virtual within touching distance from the bands, so you need your wide angle lens to shoot with. So leave your longer lens at home. Shooting like this does limit your composition when it comes to shooting though. There are still some go to shots that you can get, such as the ones below.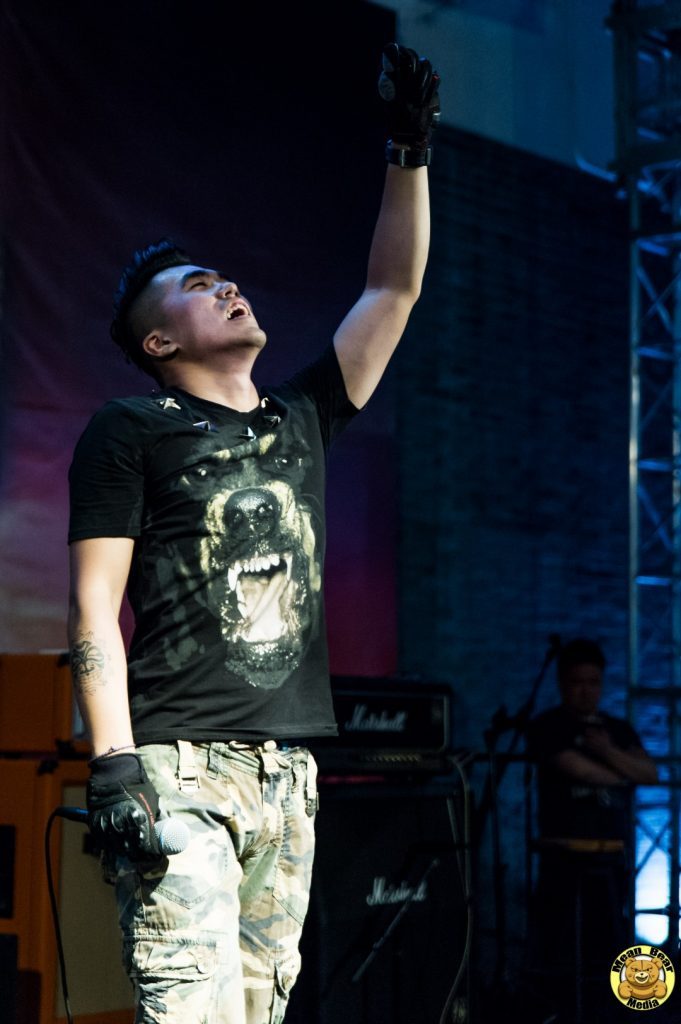 Even though you are shooting so close to the stage, you can still shoot the usual portrait composition with your wide lens, and you can do a vertical composition as well. Just be careful because the wide angle lens can distort the artist in the image, not really a problem with male artists but a huge problem with female artists.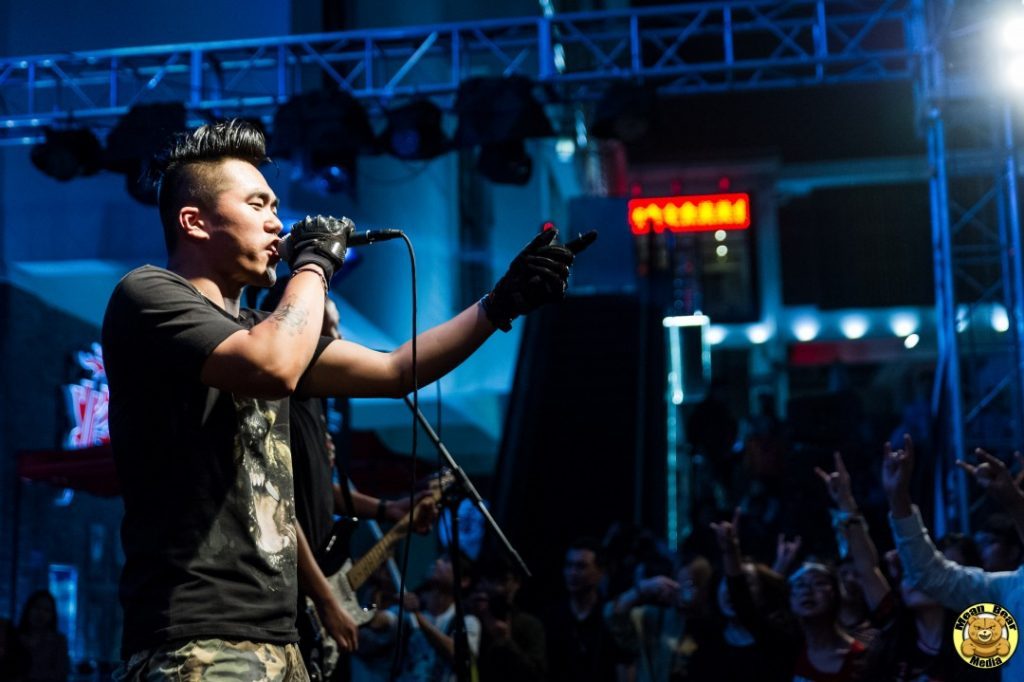 You can even shoot the vertical portrait shot but you will have to accept that you will be getting people from the crowd in your shot. They are so close to the stage that there is nothing you can do about it.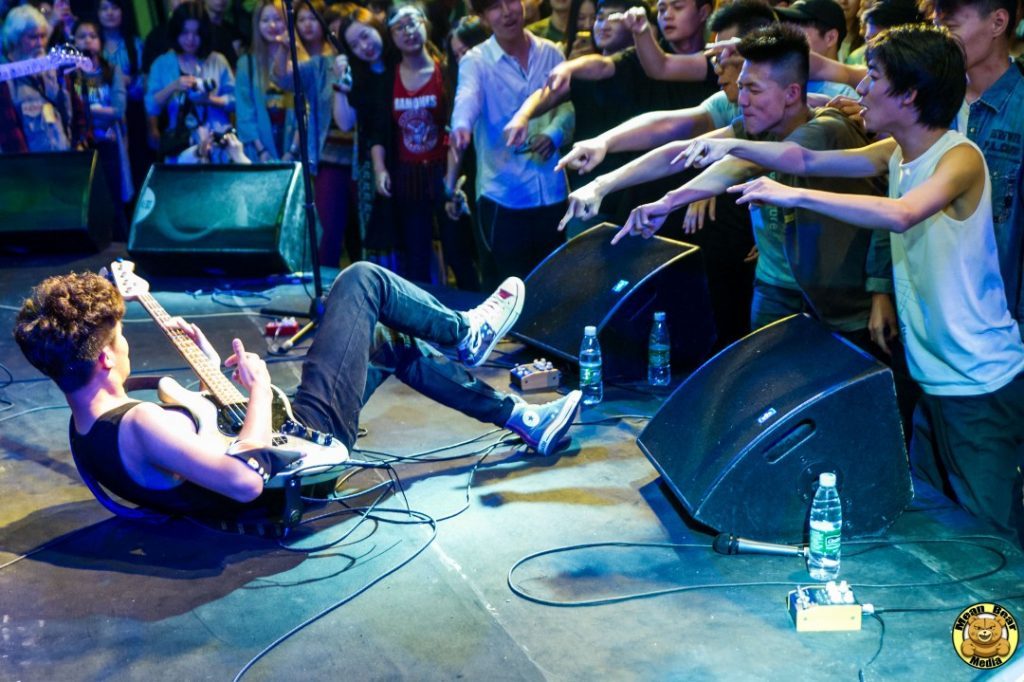 If the crowd is going to be in your shot, try to use it to your advantage. One shot you will never be able to get is a wide shot with the whole band in it. Even with a 15mm lens on a full frame sensor, I could not get the whole band into the shot. But what you can do at a small show, is get on stage. There is little security at small shows and if you are professional on stage and don't get in the way, then you can shoot from the stage with very little problems.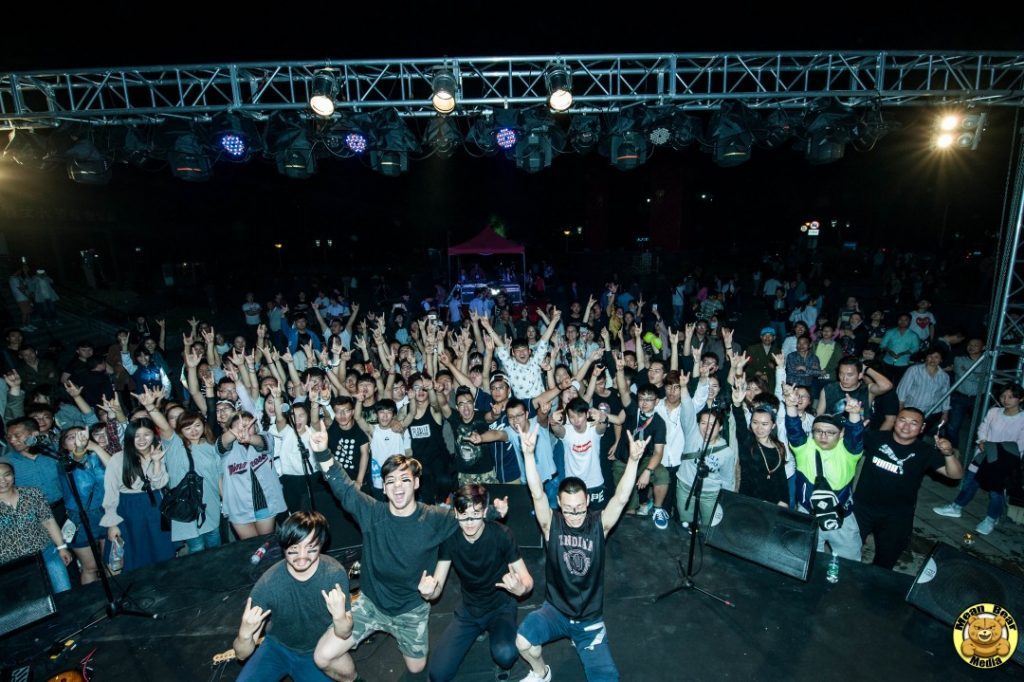 You can still get band shots from the stage but you will have to shoot from the drummer's position and get the camera high above your head. If you have to shoot like this, you are shooting blind, so make sure you got your exposure set before you go on stage and that you stop your lens down a little so you have more depth of field to work with. Personally, I hate shooting a photo when the camera is not up to my face. If your camera has a tilt-able LCD screen, then that is perfect as you can hold the camera high above your head and compose the shoot with live view on the LCD screen.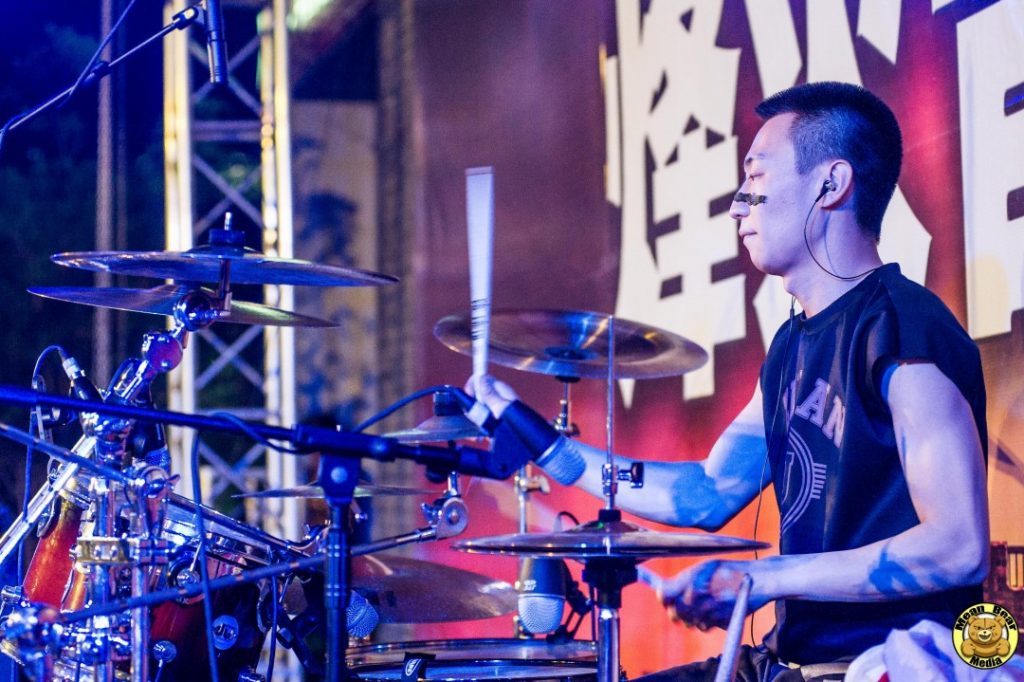 If you can shoot from the stage, then shooting the drummer is a problem and you can use normal composition techniques on them.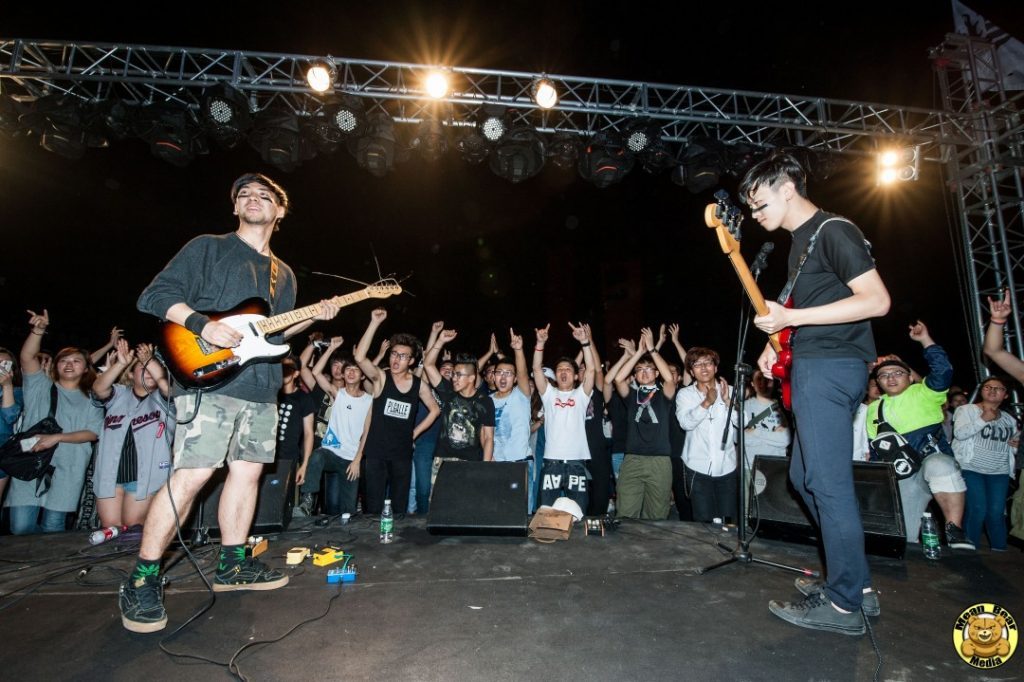 I usually have no problems shooting from the stage as I know where to go and what to do on stage. I will post another lesson in the future about what to do on stage and were to go while shooting. But for now, just remember to stay out of the way, the musician on stage is King and you are simple, not important. Always stay out of the way of the musicians, even if it means you got to jump off the stage to avoid the musician. A good shot to get from the stage is shooting from the front corners to include some of the crowd into the shot.
Try to shoot from both sides of the stage and capture some of the energy. Actually, this is a good strategy when the crowd is small. You can shoot from the side of the stage and just include the first row of fans into the frame. This will hide the small crowd as the viewer will simply think that the whole crowd is the same as the front of the stage. Look at the example below.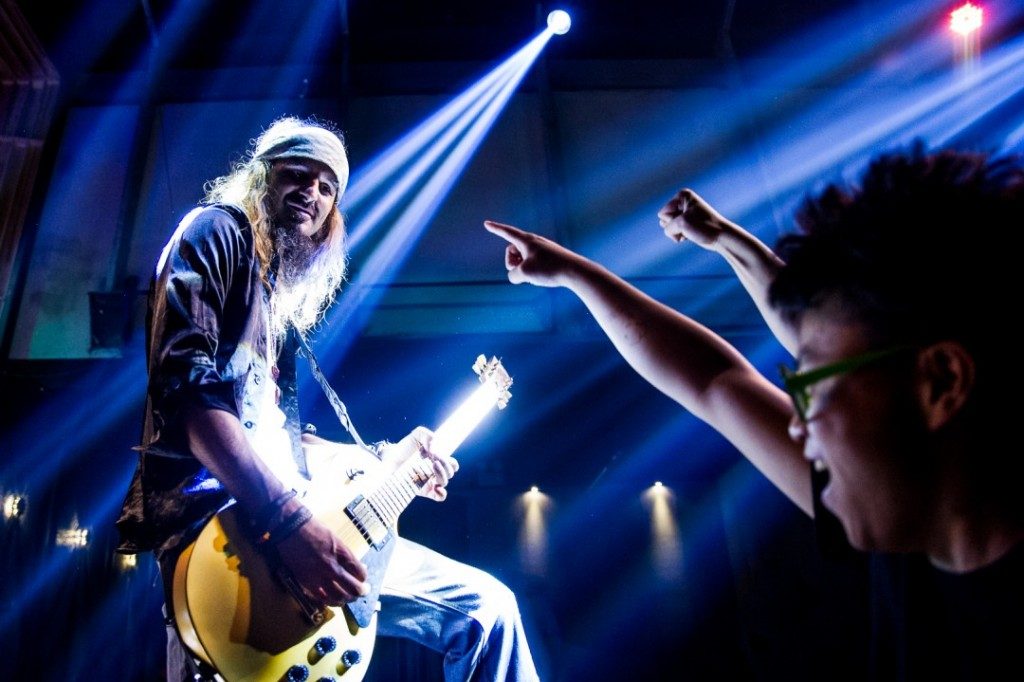 The rest of the time when you are shooting at a small show or shooting from the crowd, try to be creative, use people in your composition and try new things. Shooting these small shows takes a lot of effort and they put a lot of stress on your body. You will be bending over, and shooting at uncomfortable angles all the time. But this is where you learn or sharpen your skills.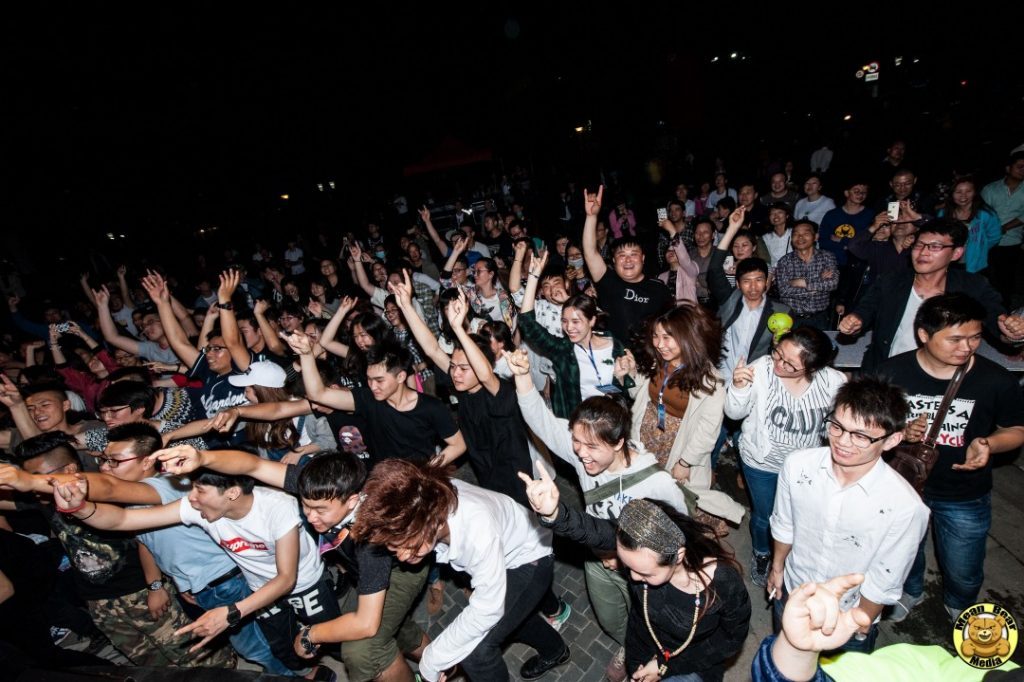 Just like shooting small shows, I strongly encourage you to shoot small shows. It will improve your photography, it will remind you of how lucky you are when shooting the bigger shows but most importantly, it will situate you really close to the crowd, and you can make a lot of friends and make a lot of new followers on your social media accounts. Some of my biggest fans have come from small shows that I have shot at. I usually would meet so many fans who all want to see photos of their favorite bands or even photos of themselves. I make sure that I always have business cards in my pocket while shooting a small show and  I tend to give out about 150 business cards a day at shows like these.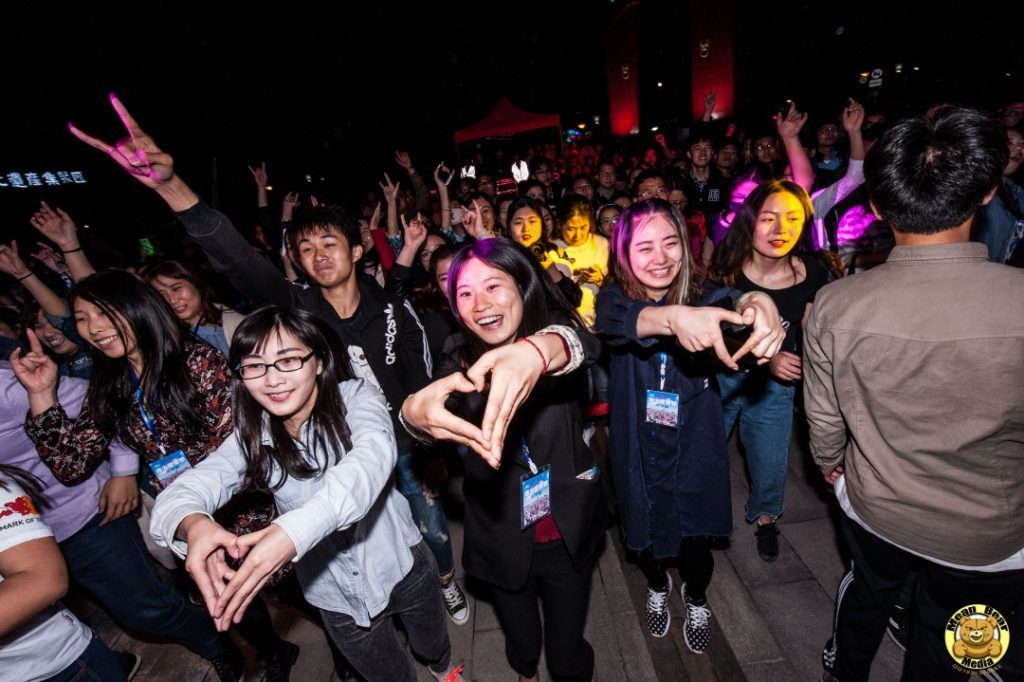 Try some small shows, and grow as a photographer, as a businessman and make some new friends.
Shaun.