Pelican 1560 bag review
This is the second bag review that I have written on my website, the first being the ONA Brixton leather camera bag and in that review I said that the camera bag was the best personal camera bag that I have ever used, well in today's review, I will introduce you to the best camera bag a working photographer can ever have.
So I will start and ruin this review right in the beginning by saying that if you are a working photographer and carrying a lot of gear with you, then this is the single best investment you can make for your career as a photographer. A good camera bag is vitally important to a photographer if he wishes to have a long career and this camera bag absolutely rocks. I have been using this bag for nearly one and a half years now and I have no regrets buying this. In fact, I can say that this bag has saved my back and was worth every cent I paid for it.
Now I will say this, I used some large shoulder bags that I used in the past to carry all my gear and it was killing my bag during a 3 or 5-day festival so one of the reasons that I bought this bag was for the roller and the wheels. I had heard that this bag is waterproof and really tough so I took a chance on this bag because shooting festivals can easily destroy your equipment. Most bags last me only one season of shooting and by the end of the season, the bag is normally destroyed.
I bought the Pelican case with the two inserts for the bag, not the pluck foam. I am pretty sure I don't have the patience to pluck the foam into the right shapes and I am sure I will destroy that foam when packing up in a rush at the end of a shoot. But the two insets are well made and very useful to me.
Now, let's start with the positives of this bag, it is marketed as a tough, waterproof bag that is made out of Ultra-High Impact Co-polymer which should protect your gear in almost all situations,  including water, air, dust,  as well as being chemical resistant and corrosion proof. The bag has an o-ring around the lip to help protect it from water and a built-in Pressure Equalization Valve to protect your gear when flying.
You seriously could not ask for anything more from a bag and after using this bag for over one and a half years now, I can say that this bag is tough as nails. I have used this bag as a chair when setting backstage at festivals, I have stood on it when shooting to get some more reach, I have used this bag in rain and mud and it has protected my equipment perfectly. This case is built like a tank and I have complete faith in this bags ability to protect me.
The bag has a lot of handles on it for you to carry it around but this bag can be really heavy if you fully load it up with gear or even without gear. The bag weighs about 20lbs or 9.1 kg so it is not a light bag but it a bag built like a tank. My girlfriend can barely carry the bag when it is empty so if you are a female photographer, just keep that in mind. It is a great bag but it weighs a ton. When you load the bag up with gear, it is almost unbearably heavy. My bag weighs nearly +- 30kg when fully loaded. Both the handles on the bag are extremely strong and durable though and each handle includes a thick metal pin to add more strength to the bag. I never felt like the bag would break or fall apart when carrying it on the handles. But I did not buy this bag to carry it around though.
I did not buy this bag to carry around though, I bought this bag for the built-in wheels and pulling handle. I have dragged this bag around airports, and pavements and on the grass at festivals. It is so much easier pulling a heavy bag around than carrying it around all over the place.
When I first got the bag, I was worried that the pulling handle would be too weak to pull the bag if it was fully loaded because the handle is basically a large shoot of plastic that runs down the back of the bag but after one and a half years of use, I have no more worries about it. It keeps working beautifully.
Now lets look at some of the downsides to this bag, and I will warn you, there are not many downsides to the bag. The first is the weight of the bag, not a problem for me except when flying. The weight quickly adds up with this bag when flying but you got to protect your gear. A lot of marketing advertises that this bag is suitable for carrying on a plane when you are flying, but this bag is way to big to be used as a carry on in most parts of the world. If you are going to Europe, Asian, Australia or Africa, then this bag will absolutely have to be checked and they are going to weigh it. It is very easy to break the weight restrictions for most airlines with this bag.
Now, this bag can take an absolute beating at airports but the one negative aspect that I have had with this bag is security. The bag comes with two slots on the lip to lock the bag and I always lock the bag when fly but most people at airports know that people use this bags to carry expensive equipment in them. On several instances now, I have found that the locks on my bag have taken a beating by someone trying to break in. But this little problem is not the bags fault and you cannot blame the bag for the fact that people carry expensive gear in it and people want to steal that gear. The last problem that I have with the bag is closing it. The bag comes with an o-ring to keep it air and water tight, but that means you got to line up the lids on the bag perfectly to close it. It the o-ring is not line up perfectly, then the latches will not lock into place. So sometimes it is hard to pack this bag up in a rush.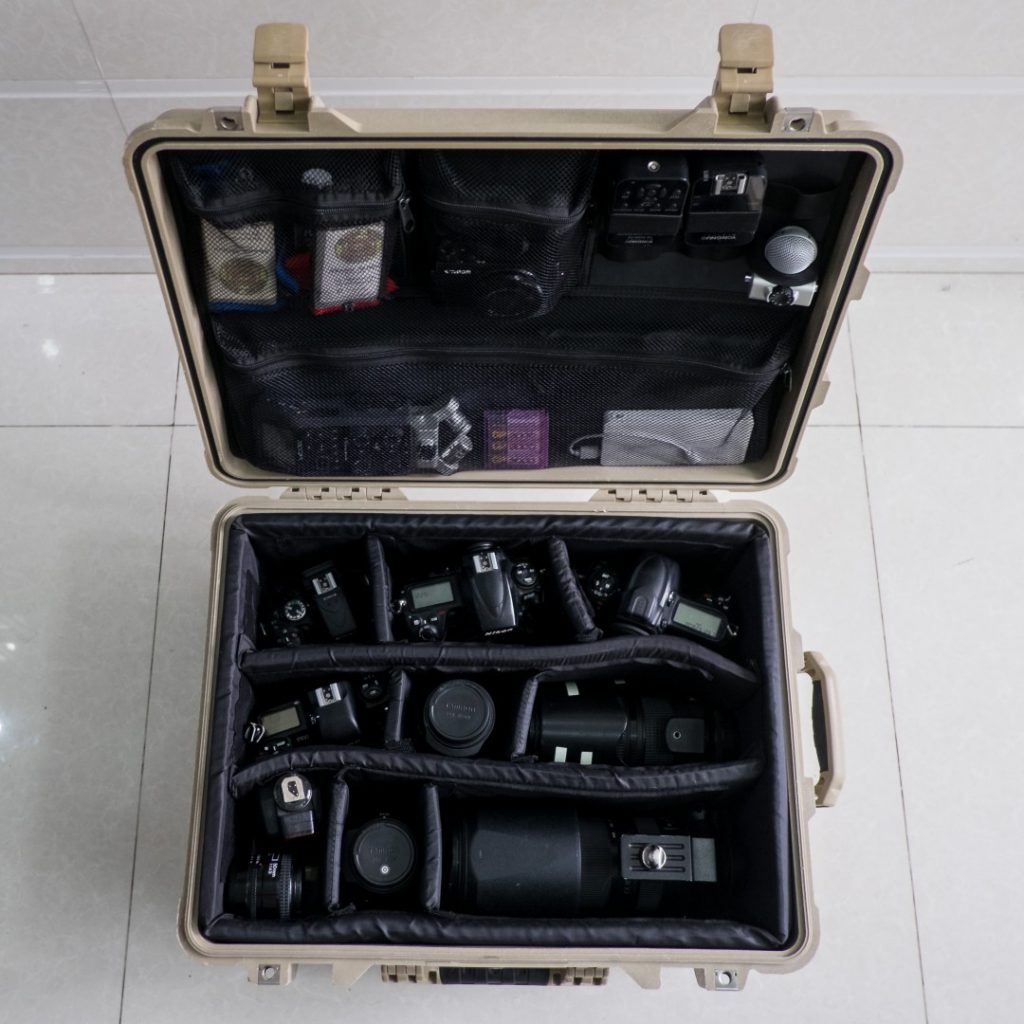 I love this bag, it is perfect for a working photographer, and gives you just the right amount of space and protection that you need to feel confident enough so that you don't have to worry about your gear while you are working. The bag is a little expensive here in Asia but the peace of mind that the bag brings for you is worth more than any price a retailer would ask for it. I have strongly recommended this bag to other photographers here in China and I will strongly recommend to you the reader if you carry a lot of gear, or if you are worried about your gear while working and traveling, then buy this bag. Don't even waste more time to look for alternatives to this, just buy this bag. I seldom would recommend gear this strongly but as a work bag goes, this bag is unbeatable by any other bag on the market right now.
Shaun.